I love my job and I love my students, so I try to avoid being gone as much as possible. However, there are times when I just can't be there. There are times when I need to plan for a sub.
The problem with subs is that they are rarely art teachers. They are nervous to sub in the art room. They don't handle working on ongoing projects very well. And, if you don't provide them with an easy-to-follow lesson, you can end up with all sorts of crazy.
While I like to leave easy-to-teach lessons, I don't want to leave pointless projects.
Here are 5 lessons that will work for almost any grade level.
They require simple supplies and will develop art skills while keeping your sub comfortable. I hope they make your next absence easier to handle!
1. Dot to Dot Contest

Art Skills: craftsmanship, shading
Supplies
dot to dot images
colored pencils
My kids love this project. In fact, they ask for it if they know that I will be gone. I leave 4-5 different dot to dot images. Students are asked to complete the dot to dot and then finish the image with shading. This project focuses on craftsmanship in how they connect the dots and also in how they finish their coloring. I have the sub remind the students that if their images contain 3- dimensional objects, they will need to add shading to make them look more realistic. I find that making this project a contest makes the students work extra carefully.
---
In addition to simple projects, games are another great activity to leave for subs. However, it's important that they're well-designed and connected to your curriculum. Lindsey Moss shares some amazing ideas in the Utilizing Games in the Art Room PRO Pack! You can find this Pack in PRO Learning. You'll walk away with tons of ideas and resources to get started right away.
---
2. Famous Artwork Remake
Art Skills: creative thinking, photo restoration, craftsmanship
Supplies
famous image photographs
coloring book images
colored pencils
This project is a fun one that asks the sub to teach your students about art restoration. I have the sub read this paragraph to the students: Congratulations students! NMS Painting Restoration has contacted me, as you have been selected to refurbish several different famous paintings. Their owners still love the pieces but find them a bit outdated. They know that you are highly creative and that you possess a lot of skills when it comes to restoring old paintings. They would like for you to update their paintings. You can add to the images or you can leave out information. However, you will need to draw the image and color it. Next week the owner, Mrs. Carlisle, will judge your work. The most creative artist who ALSO demonstrates a high level of craftsmanship will win the commission.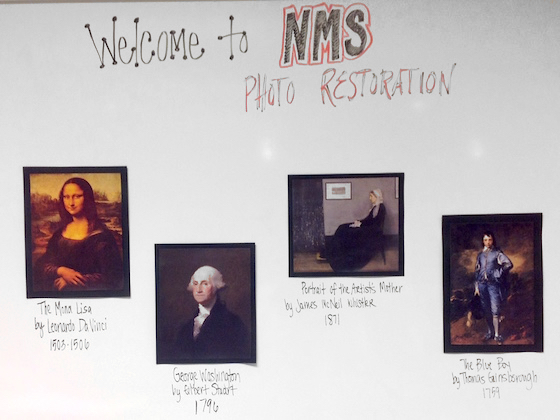 I leave the original pieces printed out on the board and some black and white images printed from this coloring book. (You can adjust the contrast on your copy machine so that only a faint image shows up.) Students work throughout the class period and usually take them home to finish them. I love the creative ways students change their images. I love that they see and learn about different famous portraits. As a bonus, they learn about a real job they could have as an art career.
3. Artist Challenge
Art Skills: creative thinking, illustration
Supplies
printed copies of artists' images
markers or pens
photocopies of starting points
This project is a fun one that could focus on the work of lots of different current artists. I have had students looks at the work of Javier Perez, who adds cartoon illustrations to everyday objects. I have had them look at the "daily monster" drawings of Stefan Bucher. I have a lesson planned that looks at Michael Robertson's crazy monster faces.
Regardless of who the artist is, have the students create a simple drawing reflecting the work of the artist. Make sure that you require them to do more than just copy the work of the artist. Make them think of new and cool ways to do similar things. I like giving everyone the same image as a starting point.
4. 9 Square
Art Skills: typography, pen and ink
Supplies
9 square drawing paper
ink pens
This lesson was designed after I saw the Black and White Letter Designs posted to Zionsville Middle School's Artsonia page. I was perusing Pinterest for ideas and when I saw the image, I knew that it would make a great sub plan. I draw out a bunch of different letters on the board and then leave the rest up to the students. They are told to draw the same letter or number in each box but make each one look different. This challenges their creative thinking skills and asks them to stretch beyond the two or three ideas generally required for brainstorming.
5. Color Challenge
Art Skills: craftsmanship, color families
Supplies
photocopies
colored pencils
This simple lesson is a great introduction or review of color theory. I make photocopies of coloring book pages, but then I challenge the students to finish them with only one color family. You could also tie this lesson to value scales by encouraging students to vary their pressure when coloring to create different values.
While these lessons don't guarantee that you won't ever get that rogue sub who whips out the paint or clay and lets the students "get creative," I hope they help you feel a little more confident when you have to be gone. Your students will be actively engaged and learning a little bit more about art. I know that my subs report enjoying teaching these lessons and that my students enjoy working on them.
If you're looking for even more sub info, check out the following articles.
What is your favorite sub plan?
What is one thing you always do when you have a sub?
Magazine articles and podcasts are opinions of professional education contributors and do not necessarily represent the position of the Art of Education University (AOEU) or its academic offerings. Contributors use terms in the way they are most often talked about in the scope of their educational experiences.