Every teacher understands the struggle of planning for a sub. It can be challenging in the art room because of all the materials required to complete an art project. Depending on your students' progress on a project, it's easy to give students work time as they already know what to do. However, this isn't always the case. Sometimes we need to take a break from a project and have a different activity for the sub to teach. We want to create a lesson that will be engaging while still teaching essential art concepts and avoiding havoc. Sounds simple, right?
Here are five activities you might try the next time you're planning for a sub.
1. Name Design
Whether you teach at the elementary or secondary level, it's always surprising to see how many students don't know how to create block or bubble letters. Creating different styles of letters is often something students are interested in learning. This name or word design activity will allow students to practice their block letter skills while focusing on their name or a word of interest.
Materials needed:
Paper
Pencil
Permanent marker
Pattern sheet
Block letter reference
Various materials for adding color (oil pastels, colored pencils, markers, etc.)
2. Yayoi Kusama Pumpkins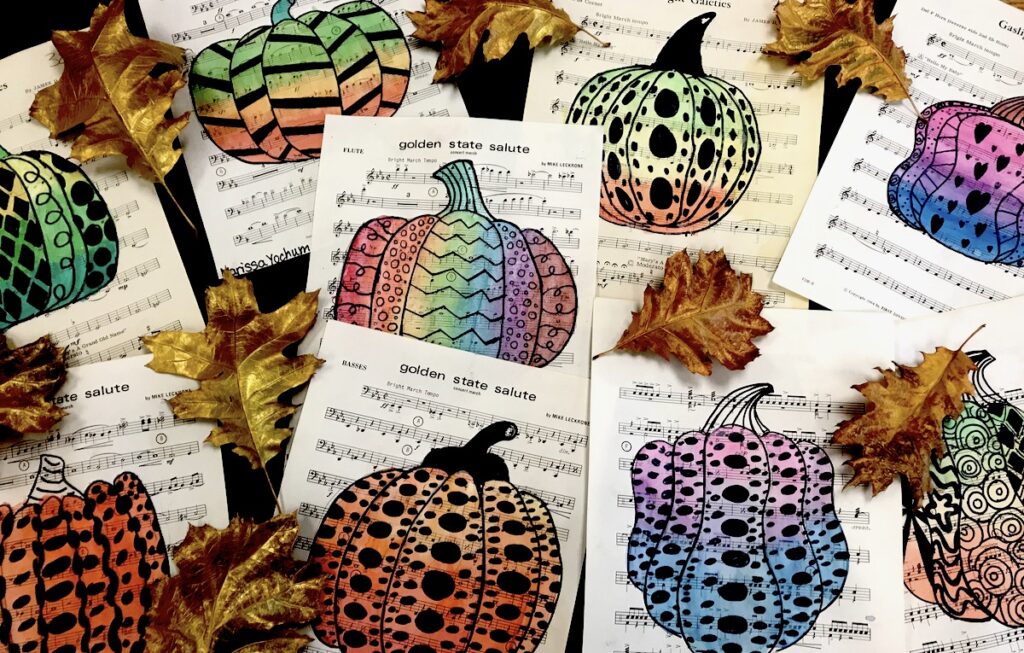 Implementing a little art history is always an excellent idea to guide a sub lesson. When selecting an artist, you might consider finding an artist whose work can coincide with a current event, time of year, or season. For example, all of Yayoi Kusama's work is fascinating to students, but the use of the pumpkin is one of her most notable subjects. Although her work is perfect for sharing at any time of the year, looking at her pumpkin works might be even more exciting during the fall season. Try out this Kusama-inspired pumpkin lesson that will have your students focusing on line and pattern.
Materials needed:
Paper
Pencil
Permanent marker
Watercolors
Download this pattern design download that will be a perfect addition to the above sub lessons.

3. Explore Watercolor Techniques
Student engagement is often highest when they are exploring a technique for the first time. There's something about the exploration of art materials that just gets our students excited! If our students are engaged, it will decrease the chances of a negative report. Exploring watercolor techniques can be an excellent activity for a sub to implement. If your students have not used watercolors before, you might consider making a video to quickly discuss where to get and put away materials, and how to use them properly.
Want more watercolor techniques from AOEU? Check out the Watercolor Painting Basics PRO Pack in our PRO Learning. 
By providing a series of technique videos, the sub can press play for the entire class and pause to practice the watercolor technique. This pattern can be replicated throughout the class. You can use this series of watercolor techniques to get your students started.
Materials needed:
Watercolors
Paper
Special effect materials (salt, rice, rubbing alcohol, etc.)
4. Explore Acrylic Paint Techniques
In a similar way to exploring watercolor techniques, exploring acrylic paint techniques might be appropriate for your secondary students. Use this series of acrylic paint technique videos to show your students. Allowing students to explore acrylic paint techniques while you are absent will give them time to explore, and they'll be ready to apply their newly learned skills to a more advanced painting project upon your return.
Materials needed:
Paper
Acrylic paint
Brushes
Gesso
Special effect materials (sand, tissue paper, sponges, etc.)
5. Transparency and Marker Prints
In this simple activity, students will explore how washable markers can transform into a new medium. Here are the steps to complete this activity:
Use washable markers to cover an entire piece of transparency paper.
Lightly spritz water onto the transparency.
Place a piece of paper on top of the water and marker.
Lightly rub the paper and pull it up to reveal a watercolor print.
Leave instructions for your students to create multiple prints. These beautiful pages can be used as backgrounds for drawing, collage paper, pages in a visual journal, and so much more!
The key to successful sub planning is not by leaving busy work for your students. Instead, allow your students to engage in exciting activities and get them creating right away.
What is your favorite sub plan activity?
What tips do you have for planning for a sub in the art room?
Magazine articles and podcasts are opinions of professional education contributors and do not necessarily represent the position of the Art of Education University (AOEU) or its academic offerings. Contributors use terms in the way they are most often talked about in the scope of their educational experiences.