Summer is an excellent time to focus on making your own personal art, specifically experimenting with tools you may have never used before. Taking time to create your own artwork can be incredibly therapeutic and necessary for your mental health.
As educators, we selflessly give to our students, leaving little to no time for us. This summer, try and make a little time for yourself by making your own art. It's important to continue igniting your love of artmaking so you can model that love of creating for your students. One way to get excited about creating is to try out new materials, or looking and experimenting with old materials in a new way.

Here are 5 materials worth exploring; they are guaranteed to give you a spark of joy and creativity. 
1. Posca Pens
Posca pens are water-based pigment markers with smooth, colorful ink that is non-toxic, lightfast, and waterproof. It overlaps seamlessly over most materials, specifically if you want to work with mixed medium projects.
Check out amazing pattern designer, Polina Oshu, on Instagram. Her botanical drawings are perfect examples of the crispy and bold layering power of Posca pens.
2. Watercolor Crayons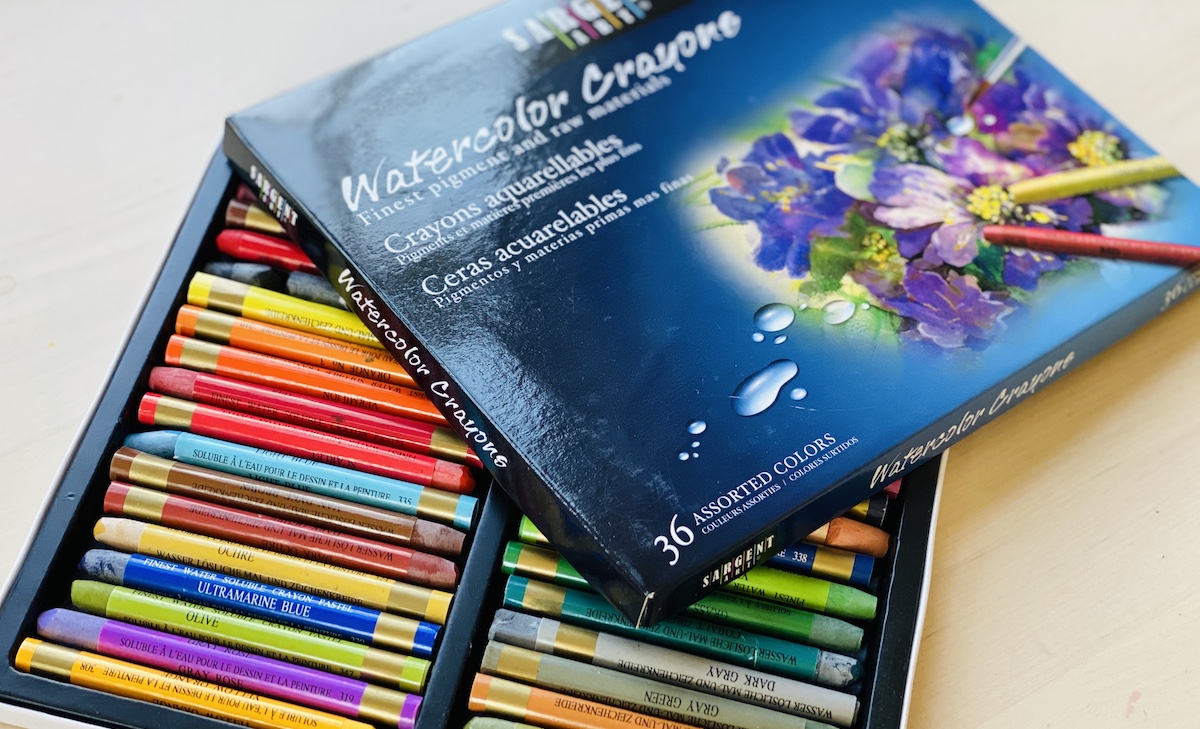 Water has always been an important part of artmaking. A drop of water on top of a marker line or a drip of water in a watercolor puddle can completely transform the artwork. Watercolor crayons, or any water-soluble material, are a fun drawing material to experiment with.
Watercolor crayons tend to be looser and more playful than watercolor pencils, which can have a more pointed, precise line. Try laying down a puddle of clean water and dragging a watercolor crayon through the puddle. Watch as the pigment from the crayon explodes away from the line like a firework.
3. Spray Paint
Until recently, I had only really used cheap spray paint to repurpose an old piece of furniture here or there. I hadn't used spray paint as an artmaking material. However, if you start playing with spray paint, you might soon realize the exciting techniques it has to offer.
Spray paint is the perfect way to add a splash of color to your indoor or outdoor space. This positive driveway overhaul was created with spray paint.
You can also experiment with a variety of ways to handle a spray paint to change what spray pattern you get. Drippy, clean, splattered…all mark-making techniques are welcome! You can even use spray paint to create an outdoor installation like a kindness sign. The bright and bold colors are sure to make someone's day a little brighter.
If you're looking for an inspirational spray paint artist, be sure to follow Jason Naylor on Instagram for his bright and positive murals.
4. Embroidery
If you tend to gravitate toward drawing or painting as your art-making medium of choice, try working outside your comfort zone and experiment with embroidery. Challenge yourself to translate your style into a different medium to see what new ideas arise. You may even find you can connect more than one medium for an even more powerful artmaking practice.
You need to follow Nneka Jones on Instagram She is a contemporary embroidery artist who creates the most jaw-droppingly beautiful portraits done with only embroidery floss.
5. Try "Just One"
One of my favorite, and most dangerous, games to play while at my local art supply shop is to get one new tool of something I've never tried before. This might mean I get one fancy oil pastel in my favorite color, one smooth Stabilo Woody Pencil, or one vibrant watercolor pencil. When trying to find a new art material to experiment with, you might just need "one" tester to get you hooked with your next favorite art tool.
There is no reason you need to stick to just one type of artmaking material. It's fun to experiment, play, and discover how you can best express your creativity. Check out these ten art supplies to remind you how amazing your job is. Using a new art material might be just the trick to awaken your creativity.
What's your favorite art tool?
How do you like to store all your favorite art supplies?
Why is it important to experiment with new tools?
Magazine articles and podcasts are opinions of professional education contributors and do not necessarily represent the position of the Art of Education University (AOEU) or its academic offerings. Contributors use terms in the way they are most often talked about in the scope of their educational experiences.