The beginning of the school year is a great time to implement new classroom management strategies. There is nothing like a fresh year to start from scratch. If you are looking for a fun tool to engage students this year, try out this game called "Teachers vs. Students." If you think you don't need this right now, that's great too! Feel free to bookmark this one for later. Sometimes, switching up your classroom management strategy in the middle of the year is an effective way to reach those students who zone out. Natural shifts in the calendar, such as weather, extended breaks, days off, or testing can contribute to students losing focus. This game creates a fun competition that often pulls the entire class together as a team and creates a common goal.

The game reinforces school and classroom expectations. If you are starting the year with this game, make sure you establish the rules and policies ahead of time.
This method has been wildly successful for me with kindergarten through second-grade students. I have also seen positive results with students as old as fifth grade. Behavior and motivation do not always coincide with how many birthday candles a person has. Each class has its own unique culture, and you may find that this game works well for one and not another.
How Do You Play the Game?
1. Place two score boxes on the board—one labeled "T" for teachers and one labeled "S" for students.
2. Review any school and classroom expectations that you will be assessing as part of the game.
For example, if one of your school's core tenants is respect, discuss what respect means and why it is important.
3. Provide examples of each expectation. Behaviors that align with each expectation result in the students getting a point.
An example of being respectful is having appropriate listening skills. Show students a visual to help them remember what listening skills look like. I show an eye, mouth, hand, and student sitting cross-legged. The images represent eyes on the presenter, quiet voices, keep your hands to yourself, and a calm body.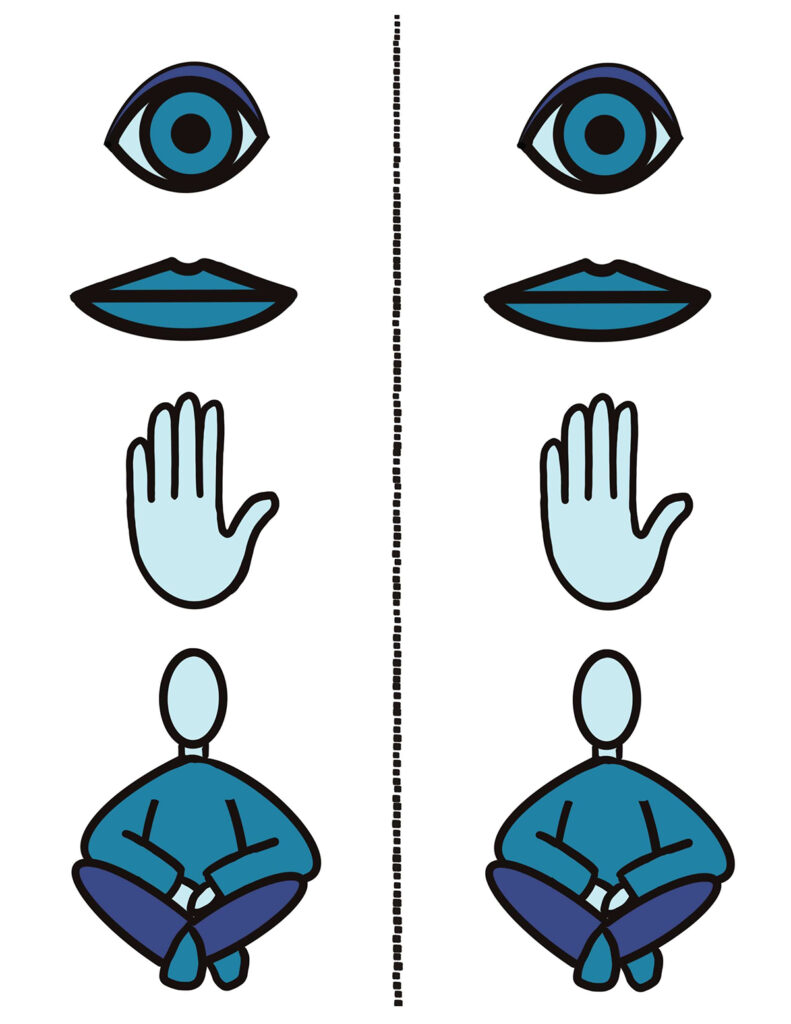 4. Give non-examples of each expectation. Behaviors that do not align with each expectation results in the Teacher getting a point.
Talking over or interrupting the teacher are examples of demonstrating both poor listening skills and disrespect.
5. Review the game with scenarios.
Ask the students, "What if someone in the class were to start blurting something out while I was giving instructions? Who would get a point—the teacher or the students?" The students will shout out, "The Teacher!" Place a tally mark in the Teacher box on the board.
At this point, the students will be sitting quietly with their best listening posture. Highlight that by saying, "Now let's say the whole class is listening quietly the entire time I'm presenting the instructions. Who would get the point now?" The students will raise their hand to share, "We do!" Place a tally mark in the student box on the board.
6. Start the game!
A pro-tip is to give out lots of points to the students when starting out to positively reinforce them by celebrating good behavior. It is also to help them understand the game and maintain their excitement for it. At the end of class, you can offer additional points during cleaning up or lining up. This is especially effective when points are tied!
Even if the teacher wins at the end of the game, remind the class that they will get a chance to play the game next week. They can win the game with more practice!
Communicate Updates With Other Teachers
This game is a wonderful way to communicate with homeroom teachers how the hour went in your room. The homeroom teachers are extremely supportive and are most interested in a report. I have found that giving a negative report is often taken very offensively. This game eliminates those hard conversations. However, it still conveys whether students have met expectations. Using language like "The teacher won" or "The students won" is more appropriate to communicate in front of students.
Reinforce Expectations With Students
Sometimes, an individual student may still struggle with modifying or redirecting certain behaviors. In this case, they may need a personal game! Once the whole group is working, go over to the student and privately introduce a personal game. Instead of keeping score on the board, keep score on a sticky note placed next to the student. Set specific goals with the student and explain that the homeroom teacher will be handed the results of the game. Personal games allow students to have a warning framed in a positive way. It also gives them an opportunity to "reset." Telling the homeroom teacher that "The teacher won," or "The student won" is a way to communicate progress without embarrassing the student in front of the class. The sticky note can also be kept as a form of documentation.
This classroom management tool is a simple and fun way to get students to meet expectations. It is also an easy solution when it comes to communicating with homeroom teachers, celebrating behavior wins, and motivating individual students who need extra reminders. For more on this game, check out this recent podcast.
For more classroom management strategies that will get students excited, check out the following:
What are some fun strategies you use in the art room to reinforce expectations? 
How do you use classroom management tools to keep students engaged throughout the year?
Magazine articles and podcasts are opinions of professional education contributors and do not necessarily represent the position of the Art of Education University (AOEU) or its academic offerings. Contributors use terms in the way they are most often talked about in the scope of their educational experiences.