For many, art is inherently therapeutic. The act of creating can be a form of self-care, and it can also release a sense of calm. We all know the feeling of losing track of time when we enter into our creative flow state. We want our students to experience this, but we may not be sure where to start. One approach to try is through Neurographic art. This process is rooted in psychology and has ties to meditative practices. Let's learn more about it!
What is Neurography?
Neurography is the branch of neurology that relates to nerves and the nervous system. This field of science is fascinating because it allows us to understand how our minds and bodies work. The study of neurology is a deep dive, but there are some ways we can tap into it in our classrooms.
When you hear the word, "neuro," one of the first terms that might come to mind is neurons. Neurons are nerve cells that communicate between the brain and the body. As we begin to look at Neurographic art pieces, you might notice how the artworks resemble neurons and cell-like structures.
What is Neurographic Art?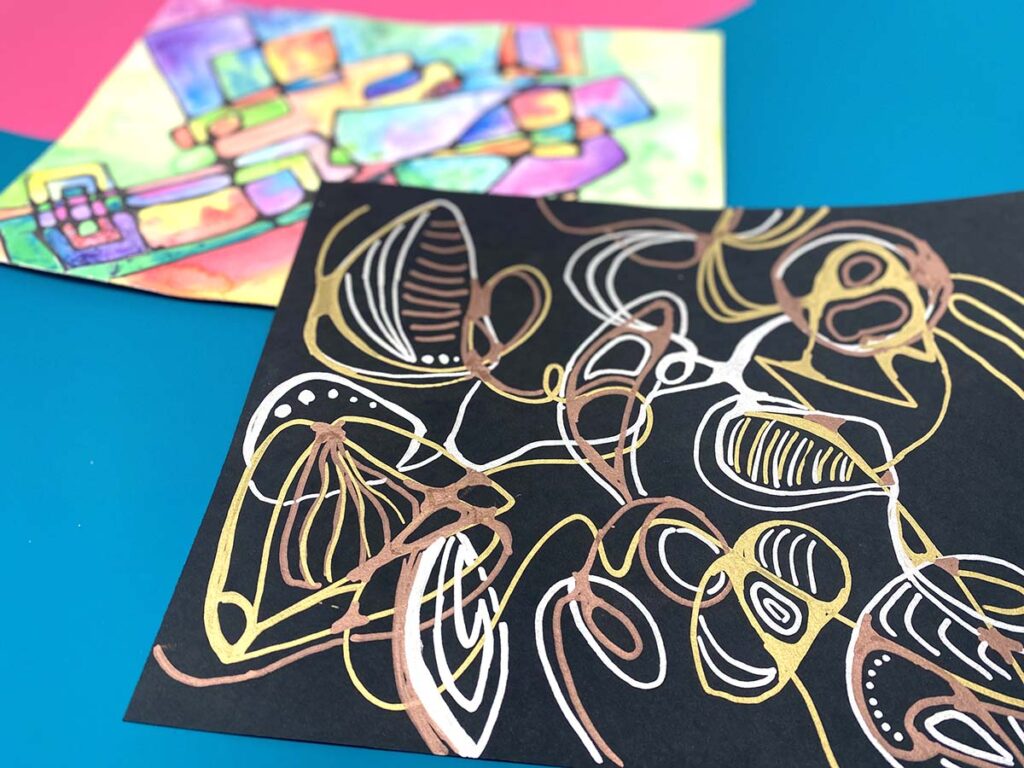 Russian psychologist Pavel Piskarev coined the term Neurographica® in 2014. He describes the process as a creative method of transforming the world. This process uses a drawing technique that links the conscience with the subconscious. The link is made by activating connections between brain cells and neurons. The result is an awareness and mindfulness that helps turn stress into calm.
An appealing characteristic of neuro art is that it does not require any drawing skill. If a student can hold a drawing material, they can participate. While we value the final product, the process of artmaking is also beneficial. Research shows that the act of making art is good for the brain because it decreases stress levels and increases focus.
How Do We Create Neurographic Art?
Neurographic art can look abstract or realistic. It doesn't matter what style the end result is; what matters is how one approaches the activity. The goal of neuro art is to promote mindfulness and intentionality at a slower pace.
Here's how you can implement the process in your classroom:
Dim the lights and play relaxing music to set the stage.
Encourage students to focus silently on what they are feeling as they think about a problem that is on their minds.
Draw an intuitive line, scribble, or doodle that reflects the problem in five to ten seconds.

Examine the intersection of lines, and make connections by rounding off the corners.

Continue the drawing by adding transformational shapes and lines to fill the spaces. During this step, it might be hard to determine when the drawing is complete. Students might find themselves reaching a meditative state as they relax and dive further into the process.

Transform additional intersections by continuing to round off the corners where any lines and shapes meet.

Finish the piece with your medium of choice.

When implementing Neurographic art, students experience social and emotional learning. Two of the competencies of SEL are self-awareness and self-management. When students are aware of their emotions, feelings, and surroundings, they will be better equipped to manage their reactions.
More Resources to Explore
Many art teachers are bringing Neurographic art into their classrooms because of its connections between mindfulness and social-emotional learning. Take a look at the additional resources below to help you incorporate more SEL, mindfulness, and therapeutic artmaking processes into your curriculum.
Recognizing the social and emotional needs of your students is crucial. For students to flourish, you must focus on the whole child, starting with their well-being. Even in the art room, you can teach students to recognize their needs and find ways to regulate their emotions. There are many mindfulness strategies out there. Whether you give the one in this article a try or select another, you and your students are sure to enjoy taking the time to slow down.
Have you tried Neurographic art practices with your students?
What are your favorite artmaking activities that focus on mindfulness?
Magazine articles and podcasts are opinions of professional education contributors and do not necessarily represent the position of the Art of Education University (AOEU) or its academic offerings. Contributors use terms in the way they are most often talked about in the scope of their educational experiences.