Due to school closures and unexpected events, art shows might not always be held in person. At first, you might be thinking about all of the time you will save not prepping for an art show. But, a bit of sadness might creep in as you realize you won't be able to celebrate the amazing art of your students.
While creating a virtual art show won't be the same as one held in person, it is an option for celebrating students' hard work. It is also a way to increase accessibility to those who couldn't attend otherwise.
Before you dive into an online platform, you will want to consider the following three things:
Do you want your art show to be teacher or student-curated?
The answer to this question will depend on various components: the age level of your students, your current teaching model, and the accessibility of technology.
Are you going to create a show for your entire school? Individual grade levels? Individual classes? Individual students?
The answer to these questions will depend on how you answered question number one.
 How will you encourage participation?
Let's be honest; there's nothing more defeating than spending hours working on something nobody sees. Even with in-person art shows, families come to see their child's work. If the online art show is lengthy or difficult to navigate, this will likely decrease participation. Participation in your event will depend on your responses to the previous two questions. Keep in mind that you know your school community best and can anticipate what will be most successful.
Learn more with the PRO Learning Pack, Showcasing Student Artwork.
Here are six online platforms to showcase student art.
1. ART.SPACES
ART.SPACES is a virtual 3D art exhibition platform. This platform allows you to customize the gallery space and upload artwork with titles and information. The free version only allows ten artworks to be uploaded, so this platform might be better suited to showcase individual student work rather than the whole class.
2. Artsonia
If you are an Artsonia user, it's a no-brainer to use this as your art show platform! Artsonia is free to use, and while viewers experience the art show, they might even be inclined to purchase something. A simultaneous art show and a fundraiser sounds like a win-win!
3. Artsteps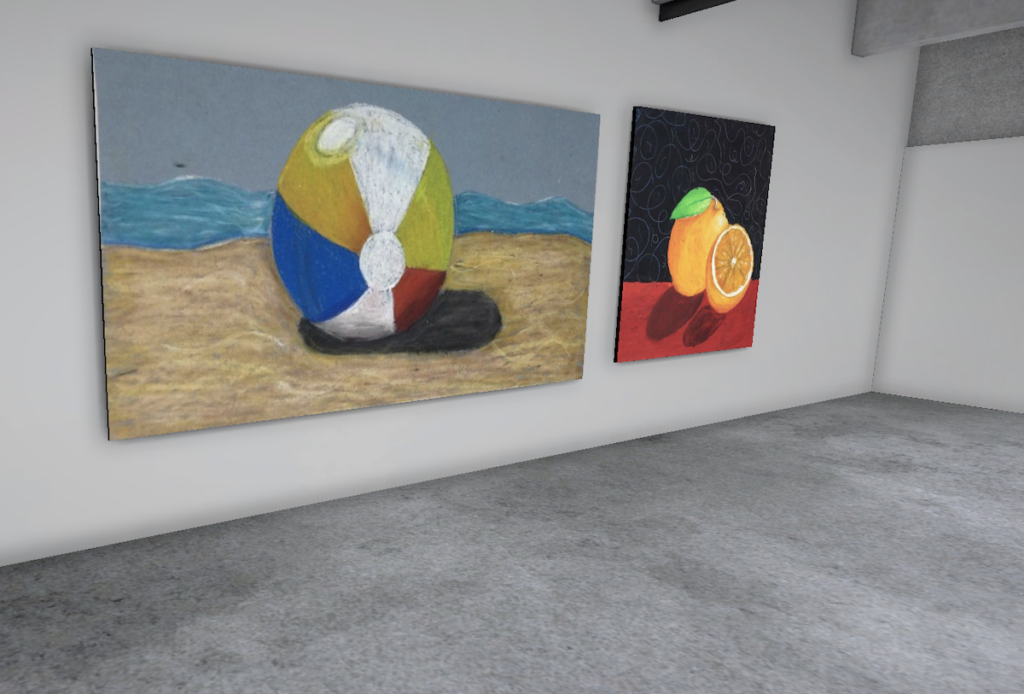 Artsteps is a virtual reality exhibition space. It functions much like ART.SPACES as it's also a 3D exhibition experience. However, if you have access to virtual reality tools, you can actually take a gallery walk through the show! Once again, this platform would be best suited for individual students, as virtually walking through a gallery to find artwork could be a little cumbersome for families and viewers.
4. Google Slides
Creating a Google Slides presentation is a simple yet effective solution to sharing student artwork with your school community. Other slide presentation platforms like Keynote and PowerPoint are also options. There are some advantages to slide deck platforms. They are easily divided into artwork for individual students, grade levels, or the entire school. Use bookmark links to navigate through the show, making it easier to find specific artwork.
Learn more with the PRO Learning Pack, Running A Successful Elementary Art Show.
Another advantage to this platform choice is that students can help curate the show with you! Whether you are teaching remotely or in-person, students can be in charge of creating their own slides. Having the ability to collaborate will save you so much time! Share the link to the presentation with families via email or through your weekly school newsletter.
5. SchoolArtShow.com
SchoolArtShow.com is a free platform that functions similarly to a slide presentation. However, all you have to do is upload the image and add any descriptive text. From here, the website generates the images to fit within the frame automatically. The final look gives a framed gallery appearance.
6. WebPage
If you happen to have a school or classroom webpage already, there's no reason not to use it! Adding an exhibition or gallery page to your existing website will save you time and allow viewers to see something on a familiar platform.
Celebrating the amazing student work from your art room is always a good idea. Whether curating an in-person or online art show, it might feel like a labor of love. The key is to work smart and evaluate what will work best for you and your audience. If you find yourself looking for ways to showcase student artwork online, try out one of these ideas.
What's your favorite platform to exhibit online student artwork?
What other ideas would you add to this list?
Magazine articles and podcasts are opinions of professional education contributors and do not necessarily represent the position of the Art of Education University (AOEU) or its academic offerings. Contributors use terms in the way they are most often talked about in the scope of their educational experiences.