The following article is written by an art educator. We recognize that art teachers are not licensed therapists, counselors, etc. If you are experiencing concerns about trauma and mental health in your classroom, please seek assistance from professional school counselors and adhere to your school and district policies.
The art room can be a safe space for students to express themselves. Art invites self-expression, and this self-expression may include trauma. Many students experience trauma in various ways. When supported by trauma-informed teaching, the creative experience can be profoundly healing. As art teachers, we can approach our curriculum by being well-informed and infusing strategies within the creative process so that all students feel safe. Educating yourself is the first step toward helping your students, and in this article, we will explore what trauma-informed teaching is and what it looks like in the art room.
What are trauma and trauma-informed teaching?
According to Lisa Kay, author of Therapeutic Approaches in Art Education, trauma is "all-encompassing and multi-faceted" and "can describe a wide range of distressing experiences and events that have a profound effect on students' social, emotional, and cognitive learning." Trauma varies in severity and duration for each individual. It elicits an emotional response to circumstances and events related to a traumatic event. Stress responses differ from child to child and person to person as well.
In the article How to Bring Social Justice, Trauma-Informed Teaching, and SEL Into the Art Room, trauma-informed teaching is described as "acknowledging that what happens outside of the classroom affects students throughout their day." Being equipped with tools and strategies for de-escalation can be helpful for some situations you may encounter. Being educated, aware, proactive, and responsive to the needs of all of your students can help contribute to a safe and inclusive learning environment. To get you started, download our 7 Effective De-escalation  Strategies handout from our Pack, De-escalation Strategies for Challenging Behaviors which can be found in PRO Learning.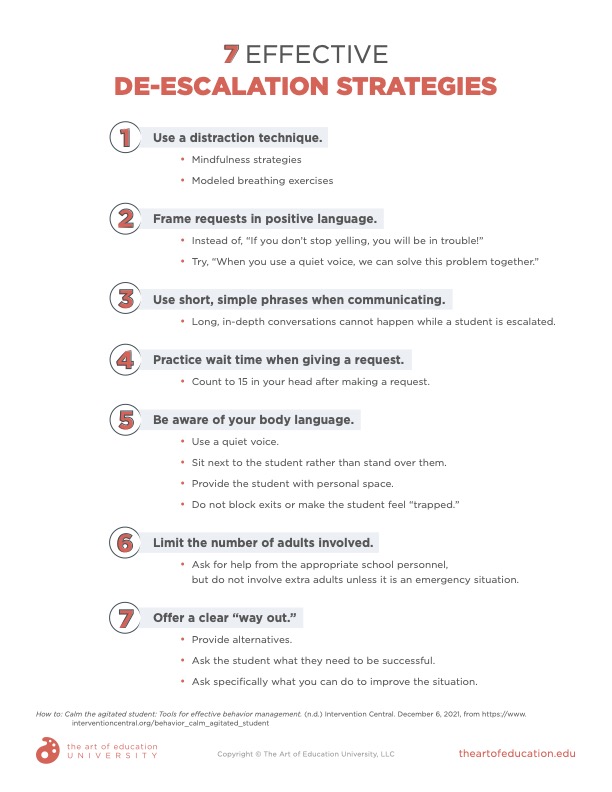 Download Now!
How does trauma appear in the learning environment?
Students' experiences vary, so it's important to be aware that behaviors may show up differently for elementary, middle, and high school students. Students may or may not choose to express emotions and experiences in the art room. You may see or hear things shared through their artwork or conversations, observe shifts in social-emotional behaviors, or notice changes in academic performance.
The National Child Traumatic Stress Network created a Child Trauma Toolkit to educate school personnel and provide suggestions for support. This comprehensive resource identifies specific emotional and behavioral reactions to trauma. Some examples may include complaints of stomachaches, headaches, pains, or an inability to focus. All of these can interfere with the creative process. You may even see expressions of the traumatic event in your students' artwork.
When seeking aid for your students, check with the mental health professionals in your building. School psychologists, counselors, and social workers are great resources. While you are not a mental health professional, you can lean on professionals who can help support the situation and circumstances.
If you are interested in learning more about trauma, traumatic events, and trauma-informed teaching, check out these resources:
What does trauma-informed teaching look like in the art room?
When it comes to trauma-informed teaching, educating yourself informs your curriculum, instruction, and classroom management approaches. As an art teacher, focusing on art education is your main priority. While art teachers are not licensed therapists, creating art in the classroom may allow students to explore and process their feelings. When students feel like they belong and are valued, they can be more apt to share and be open. Once you establish a foundation of knowledge, the next step is to implement strategies to cultivate an inclusive, welcoming learning space in your art room.
No matter the age level, there are ways to create a welcoming art studio environment while providing a creative outlet. If you are searching for ways to foster these characteristics in your art room, consider these ideas:
Enroll in a professional development course about trauma, trauma-informed teaching, and behavioral and mental health in education. Check out AOEU's courses, Art Therapy for Art Teachers or Social-Emotional Learning in the Visual Arts, or our Pack, Supporting Students Experiencing Trauma. Look for this Pack in PRO Learning to learn more.
Attend professional development workshops to continue growing with the latest trends in education and students' mental health.
Offer open-ended or theme-based prompts and projects as part of your curriculum. Allow students to give voice to their artwork through artist statements. Give them the option to share with classmates or only with you. Make sure to watch the PRO Pack Crafting Meaningful Artist Statements in PRO Learning to dig deeper.
Connect with local therapists, art therapists, or your district's behavioral-health specialists to discuss how you can better support your students.
Look for opportunities to offer more choice in the classroom, including flexibility in materials.
Prepare a classroom management plan to include de-escalation strategies.
Give students an option to work in visual journals to include images and words for creative expression.
Check out more resources and articles AOEU offers to help you create a trauma-informed approach in your art room:
When our students step into our art room, we may or may not know what happened in the moments, hours, or days leading up to our class. While teaching visual art is your focus as an art teacher, you may still wear many hats. While you are not a licensed therapist, there are resources available to you and your students when traumatic events surface. Understanding how experiences and behaviors affect learning can help you be proactive in supporting students in the art room. We must be mindful and responsive to the needs of our students regardless of how they are presented. When we teach art with an open and accepting mindset, our students will feel supported and welcomed. Then, we will know we have done our best.
How do you create a welcoming and safe environment for all students in your art room?
What strategies do you use to respond to challenging behaviors and situations?
Magazine articles and podcasts are opinions of professional education contributors and do not necessarily represent the position of the Art of Education University (AOEU) or its academic offerings. Contributors use terms in the way they are most often talked about in the scope of their educational experiences.