Art history can be a daunting subject to teach to students if not done with some careful consideration. Theoretically, you are taking 40,000 years worth of artmaking from around the globe and trying to break it into manageable chunks for students ages 5–18 to understand. This is a monumental task! Not to mention taking older or ancient art from a time period students were not born in and presenting it in a context they can grasp.
Teaching art history takes practice, so let AOEU help! Enroll in the graduate course, Educating Through Art History. You will learn art history teaching strategies and how to contextualize artworks, use proper analysis skills, make cultural connections, and more. By the end of this course, you will develop an engaging lesson plan to get your students revved up about art history!
Get in touch with an admissions counselor!
The ultimate goal of teaching art history is to make it relevant to students. Contemporary art can be a great starting point as it is current and relatable. While it can speak to present issues, it also can shed light on artworks from the past. Best of all, students can practice and apply analysis skills with contemporary art before they move on to more complex and layered historical pieces.
Now, let's look at six contemporary and diverse artists you won't want to miss.
Do you know of any artists who can use chocolate syrup, dirt, old tires, and garbage to make a piece of art? Brazilian artist Vik Muniz can! As a photographer, Muniz gathers unconventional materials to use in his photographs. He seeks to add deeper meaning to the work by making a social commentary paired with specific media.
For example, in his Pictures of Garbage series, Muniz hires garbage collectors from one of the largest waste dumps in Rio de Janeiro. Muniz's work was commemorated in a documentary called Waste Land, which specifically discussed this series. Muniz persuaded garbage collectors, a marginalized group of people on the other end of consumer culture, to help him arrange some of the trash into portraits such as The Gipsy, Mother and Children, and even a reproduction of Jacques Louis David's Death of Marat. Like many contemporaries, he often appropriates past works of art.
Jenny Holzer takes the power of words to a whole new level! She projects words, sentences, or phrases in public places, typically in a large-scale format. This can take the form of signboards on the exterior of movie theaters, neon signs, projection screens, ticker banners, benches, monuments, silk screens, and more.
Holzer's work seems innocuous at first because it blends in with its surroundings. However, when you read the text, they become a thought-provoking glimpse into society's lives. Examples of text have included, "Voting is your superpower," "Abuse of power comes as no surprise," and "Categorizing fear is calming."  Through her text selection, Holzer reveals an intentional and empowering truth. Holzer's messages are also featured in the Art in Embassies program put on by the U.S. Department of State.
Anselm Kiefer's work blurs the lines between painting and sculpture. His pieces are typically rich in content and thick texture. While he sometimes uses paint, Kiefer is also known to use unconventional techniques or materials like electrolysis, heating coils, salt, stucco, and lead. Much like Vik Muniz, Kiefer's methods and material choices relate to the subject he is presenting.
In Lot's Wife, he uses layer upon layer of salt and ash to present a set of railroad tracks that vanish into the unknown. This work references the Bible story of Lot's wife, who turns into a pillar of salt when she turns back to look at the destruction of Sodom. The railroad tracks symbolize the tragic fate of many Jewish people during the Holocaust, a theme Kiefer refers back to repeatedly. The artist often has many meanings in his artwork, and each idea must be peeled back layer by layer.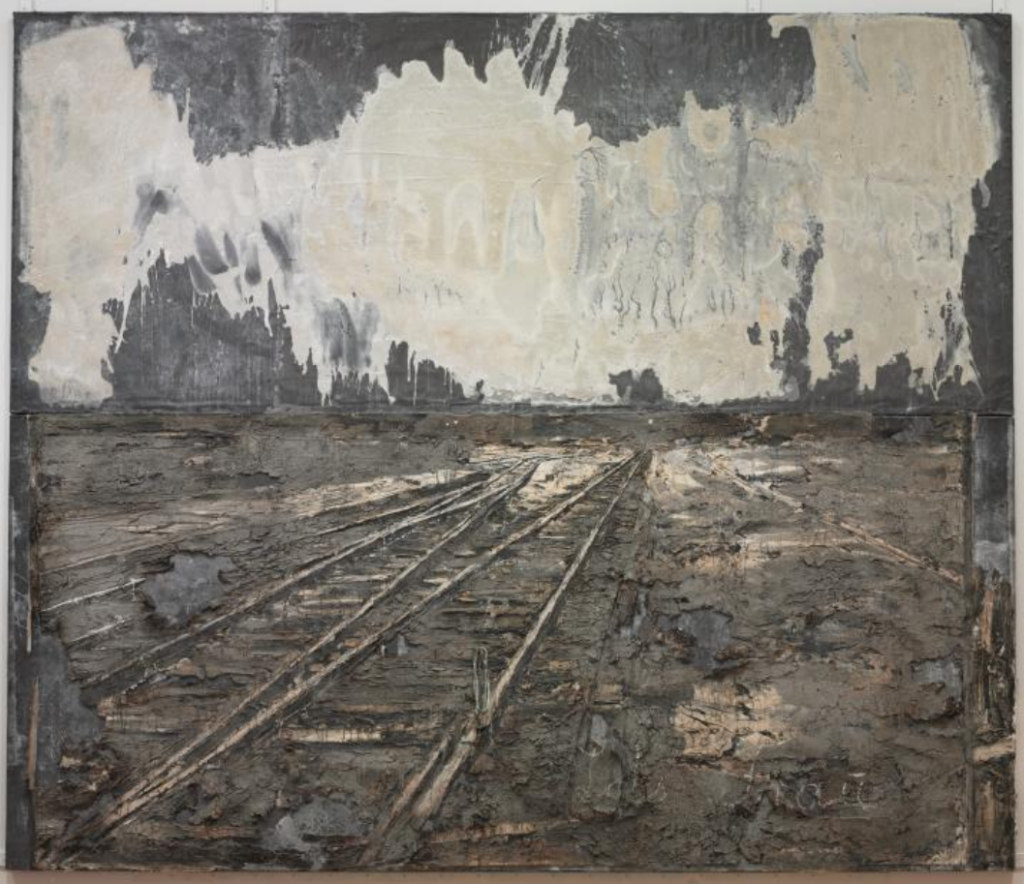 Known for his art and activism, the outspoken Chinese contemporary artist Ai Weiwei has made quite a name for himself. Working in vast and ever-changing media, Weiwei uses anything that will make a statement. He uses a range of art forms, such as drawing, painting, sculpture, photography, and installation.
In his installation, Soleil Levant, Weiwei packs thousands of life-preservers into the windows of the Kunsthal Charlottenborg to make a commentary on the European refugee crisis. "Soleil Levant" is borrowed from a Claude Monet painting that depicts an atmospheric harbor and a sunrise. Fun fact—it's the same painting known for sparking the term and movement of Impressionism. Weiwei continues to be an advocate for many current topics, including the European refugee crisis, Chinese democracy, and the welfare of its people.
Sometimes making pieces that are difficult to confront, artist Kara Walker explores themes of race, stereotypes, identity, and more. She is a woman of many talents, including drawing, painting, sculpting, filmmaking, and installation.
Her best-known works are her silhouettes, in which she depicts scenes out of cut and glued black paper. While this technique was popular in the 1800s, Walker pairs it with the subject of slavery to harken back to a murkier period of American history. Her work is unflinching yet thought-provoking.
Rebel Leader is a singular image of a shadow puppet used in a series titled Testimony: Narrative of a Negress Burdened by Good Intentions. The work is heavily stereotyped and shows a young person with a broom in one hand and a rifle in the other, almost as if they are about to make a life-changing choice. Her work is strong and unafraid to stare the viewer down to question race in the past, present, and future.
Kehinde Wiley is a painter who celebrates African American portraiture in a highly realistic style but also nods his hat to the time of the Old Masters. Wiley's work is extremely naturalistic. He keeps many of his models in their present outfits but arranges them in poses reminiscent of historical paintings. The appropriated compositions heighten the shared themes of the piece. Wiley modernizes his work with pops of intense color and intricate floral patterns.
Not to be outdone, Wiley was commissioned to paint the portrait of former president Barack Obama in 2017. While there is no known art historical context in Obama's pose, it does have many elements that personally tie in to the former president, such as the chrysanthemums, the official flower of Chicago (Obama lived and worked there for many years, and the former first lady was raised there.). This portrait will live on not only as a presidential portrait but also as a quintessential piece of Wiley's unique style and approach to contemporary painting!
If art history is becoming a struggle to incorporate into your curriculum, try switching it up and discuss some of these contemporary artists who use conventional and non-conventional materials in new and exciting ways. Have students examine and discuss the symbolism, media choices, and layered meanings. This may even inspire your artists to speak up about a contemporary issue going on in the world or at their school right now.
Remember, if you are looking to strengthen your art history curriculum and teaching practice, take classes for licensure renewal, earn more credit for a salary increase, or get that master's degree—AOEU can help you reach your goals!
Which of these artists have you discussed in your classroom?
Which artists are you excited to share with your students?
How comfortable are you with teaching art history, particularly contemporary art history? 
Magazine articles and podcasts are opinions of professional education contributors and do not necessarily represent the position of the Art of Education University (AOEU) or its academic offerings. Contributors use terms in the way they are most often talked about in the scope of their educational experiences.