I first got the collaborative bug when I saw Sarah's post about monochromatic self-portraits. They're created on the FIRST day of art! Then came my love of Dot Day and creating collaborative circle art. But, I was really consumed when I saw Don Masse's collaborative quilts!
Collaborative art projects are a great way to promote community in your art room and throughout the school.
Students learn to appreciate each other's contributions and unique skills. When using collaborative skills, our students become effective communicators and contributors in our society. These projects are a great way to build relationships among students, staff, and community members.
Below, I've featured some of my favorite collaborative projects from AOE and around the web!
Large Group Projects
These can work as class-wide or school-wide projects.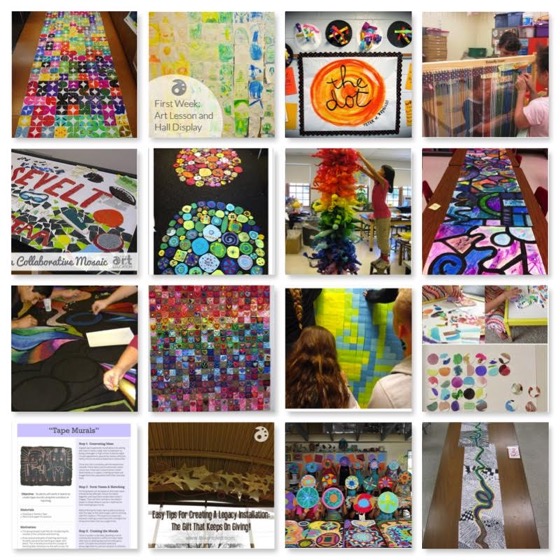 Don Masse's Paper Quilts
Each student is in charge of a square in which they manipulate parts of a circle and create symmetrical designs.
Sarah Dougherty's Monochromatic Self-Portrait Mural
Have each grade level create small, monochromatic self-portraits to be placed together in rainbow order.
Dot Day
Check out Cassie Stephens' ideas galore!
The Friendly Loom
Students from multiple grade levels can contribute to this ongoing project!
Collaborative Mosaics
Make something for your school, about your school!
---
While doing collaborative projects is one great way to build community in your classroom, there are so many other things you can do. If you're looking for more ideas, don't miss the Insider Secrets for Successfully Managing the Classroom PRO Learning Pack! There is an entire section devoted to building a classroom community.
---
Organic Circles with Analogous Colors
Each student creates a circular piece.
Chihuly Inspired Sculptures
Who doesn't love a Chihuly piece?
Collaborative Abstract Painting
Students can work on this project from all angles!
Abstract Chalk Blending
This could easily be an ongoing project.
Beautiful Hearts
To show you care.
Post-It Note Murals
Students will need to work together to plan out these complex images!
Wacky Watercolor Circles
Have students paint small scraps of paper, then punch out circles and arrange.
Tape Murals
Break students into small groups to create these temporary murals.
Legacy Installation
Created by the oldest grade level in your building, this beautifies your school for years to come.
Circle Painting
We can't forget this abstract painting collaboration!
Line Designs
Small groups can work on each sheet. Then connect them all to make the collaborative piece!
Small Group Projects
Each year I have my students create a piece of art as a class. Some of these are auctioned off to fundraise for our building. Here are some of my successful projects as well as those I can't wait to try!
Monthly Calendar
Have each student in a class create a background for one day of a wall calendar.
Painted Furniture
Classes can vote on a design, and each member contributes to some part of the item. Geometric designs are easy to execute!
Exquisite Corpse, Back-To-School Collaboration / Remixed Masterpieces
Each student makes a portion of the whole image!
Louise Nevelson Assemblages
Each student can create their own assemblage. Unify with one color and display them all together.
Contemporary Quilt Blocks
This site has a complete tutorial!
Circle Weaving
Painting, weaving, and collaboration all in one place.
Architecture Prints
Each student prints a unique building which are then displayed as a whole "city."
Collaborative Cities
Each student takes charge of some aspect of the cityscape!
Bubbles!
Students can practice their chalk blending skills with this lesson!
Popsicle Stick Extravaganza
Each student decorates a stick!
Zentangle Inchies!
Get your tangle on with this pop of color!
By no means is this list exhaustive.  Add your favorite collaborative projects in the comments below! Bonus points for pictures! Don't forget, you can't have "community" without "unity."
What time of year do you do collaborative projects? 
What are some of your favorites?
Magazine articles and podcasts are opinions of professional education contributors and do not necessarily represent the position of the Art of Education University (AOEU) or its academic offerings. Contributors use terms in the way they are most often talked about in the scope of their educational experiences.