Sometimes lesson planning comes down to the wire. Maybe your students went through a project much faster than expected, or you simply did not have the time to get ahead of things. We've all been there. It's not unheard of to scour the internet and social media for ideas, but sometimes we still come up short. No art teacher is perfect, and we all need a lesson idea in a pinch from time to time! We don't want these activities to be fluff or busywork. Instead, we want them to help our students build skills and scaffold learning.
The next time you find yourself in need of a last-minute activity or lesson, look no further. The following seven activities are easily adaptable for various grade levels. They also require minimal material prep and use supplies you likely have in your art room.
1. Personal Soda Can Label
We live in a consumer world where new beverages, food, candy, and snacks are constantly introduced to the market. Teachers and students experience product and brand design—often without even realizing it. Looking at the typography and imagery of different products can spark interesting conversations with both elementary and secondary students.
One way for students to explore the idea of consumerism through product design and advertising is by creating a personal beverage label. This will require students to brainstorm a brand and identity for their product by picking the flavor, color, and overall look. Use the handout below to get your students started planning their designs.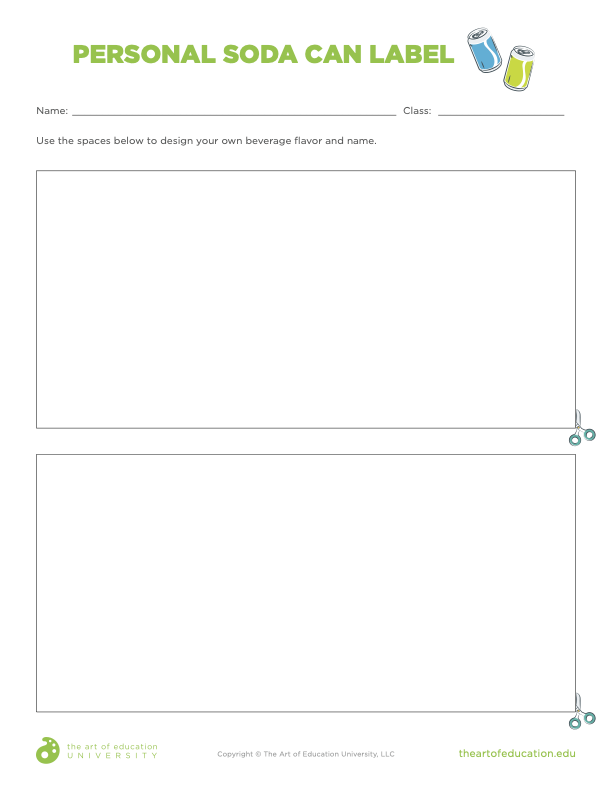 Download Now!
Once students have designed their labels, you can take this activity a step further by attaching the design to an aluminum can. Have students participate in a reflection or critique activity. Ending the activity here might be appropriate for your elementary students, but you could take it a step further for your middle and high schoolers. Have students use their aluminum can with a custom label for observational drawing. Beginning students often struggle with matching the text and typography on traditional soda cans. Using the label they initially created will help them build confidence in their drawing skills. After practicing observational drawing skills, students add shading to create the illusion of form. High school students can also explore more package design and advertising elements.
Suggested materials: Paper, drawing materials, aluminum cans (optional)
Suggested grade levels: Elementary, middle school, high school
2. Crushed Soda Can Drawing
Another simple yet effective way to recycle aluminum cans in your classroom is to crush them and use them for observational drawing. When students learn to draw, they eagerly want to draw things as realistically as they can. Students often feel frustrated and disappointed when they aren't able to draw things perfectly. One way to reduce the pressure of realistic drawing is to begin with an imperfect object. Crushing cans and spray painting them white can serve as a beautiful and cost-effective way to teach basic drawing skills.
Students can draw the cans from life or use a reference photo. If they use a reference photo, you could introduce your students to the traditional grid method or provide them with alternative ways of making a grid.
Cover the cans with white paint so students can focus on the simplified shapes without worrying about labels or text. Strong lighting can also help students to identify values easily. If you don't have aluminum cans on hand but still want to try this activity, use these images as references.
To adapt this lesson and take it even further for your secondary students, explore new and advanced techniques to create a background with contrast and emphasis. Students research and experiment with a technique they have wanted to try. Provide them with a demonstration and sampling of some ideas to get them started.
Here are some exciting advanced techniques:
Suggested materials: Paper, drawing materials, aluminum cans
Suggested grade levels: Upper elementary, middle school, high school
3. Ashley Mary-Inspired Organic Shape Painting
Exploring abstract and non-objective art can be an empowering experience for students. However, sometimes the freedom to create can leave them paralyzed or push them to overwork their pieces. One way to introduce students to proper painting techniques while exploring color, pattern, and shape is to learn about the contemporary artist Ashley Mary. Mary's playful paintings are reminiscent of the free-form collages of Matisse. Comparing Mary, a contemporary artist, with Matisse, a classical artist, can provide a foundation for inspiration and discussion. To learn more about Ashley Mary, download our complimentary FLEX Curriculum Artist Bio. Find this and many more artist bios in FLEX Curriculum.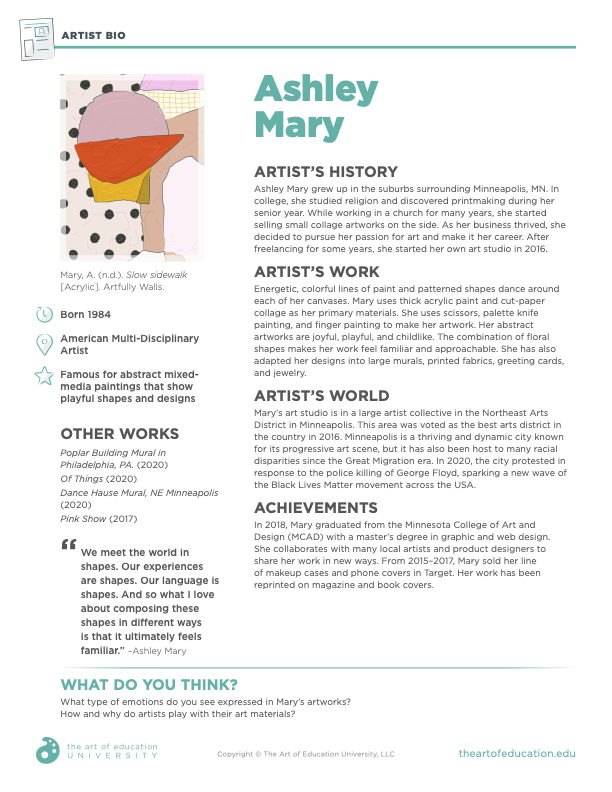 Download Now!
Before students begin painting, have them choose a color scheme. Encourage students to work with a limited palette to push them to make more intentional color decisions. Students create shapes and patterns one paint layer at a time. If using watercolor, this can be a wonderful exploration of how transparent and translucent colors mix and layer. The free-form nature of this painting style also fosters intuitive thinking.
Suggested materials: Paper, acrylic or tempera paint, watercolor
Suggested grade levels: Elementary, middle school
4. Water Droplet Drawing
If you are looking for a skill-building activity to boost your students' confidence, this is it! Inspired by art teacher Jennifer Sell, this water droplet drawing activity is the perfect way to introduce students to shading and form at any age level. For best results, use a material that blends easily, like graphite, charcoal, chalk, or oil pastel. Use these videos to help guide your students as they navigate through the activity.
To adapt this for your advanced learners, students create the same drawing with two different media. Compare and contrast the process, medium characteristics, and end results.
Suggested materials: Paper, chalk, graphite, charcoal, or oil pastel
Suggested grade levels: Upper elementary, middle school, high school
5. Textured Slump Mold Slab Bowl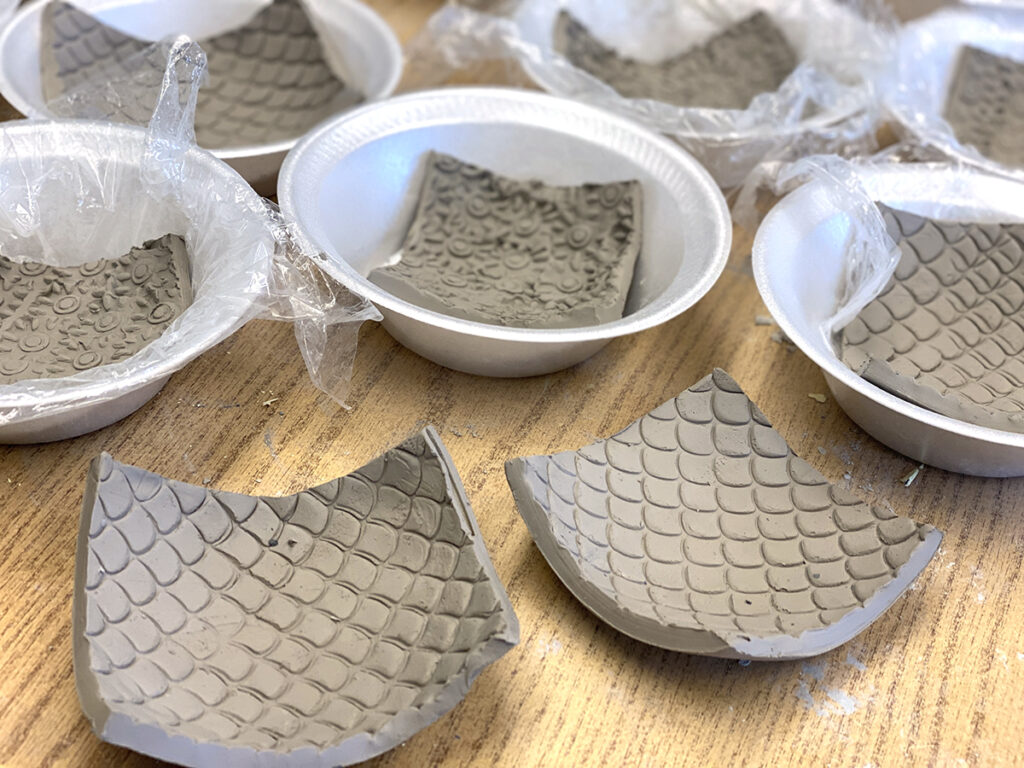 Are you in need of a one-day clay activity that requires minimal materials? Creating slump molds is a great way to introduce or review making slabs with students. All you need is clay and a mold, like a bowl, to press the clay inside. This idea also can introduce surface texture on clay. Students roll a slab, add texture, then press into the slump mold. If you plan on doing more clay lessons with your students, this is a quick project for students to practice the glazing process.
Suggested materials: Clay, bowls for molds
Suggested grade levels: Elementary, middle school
6. Op Art Drawing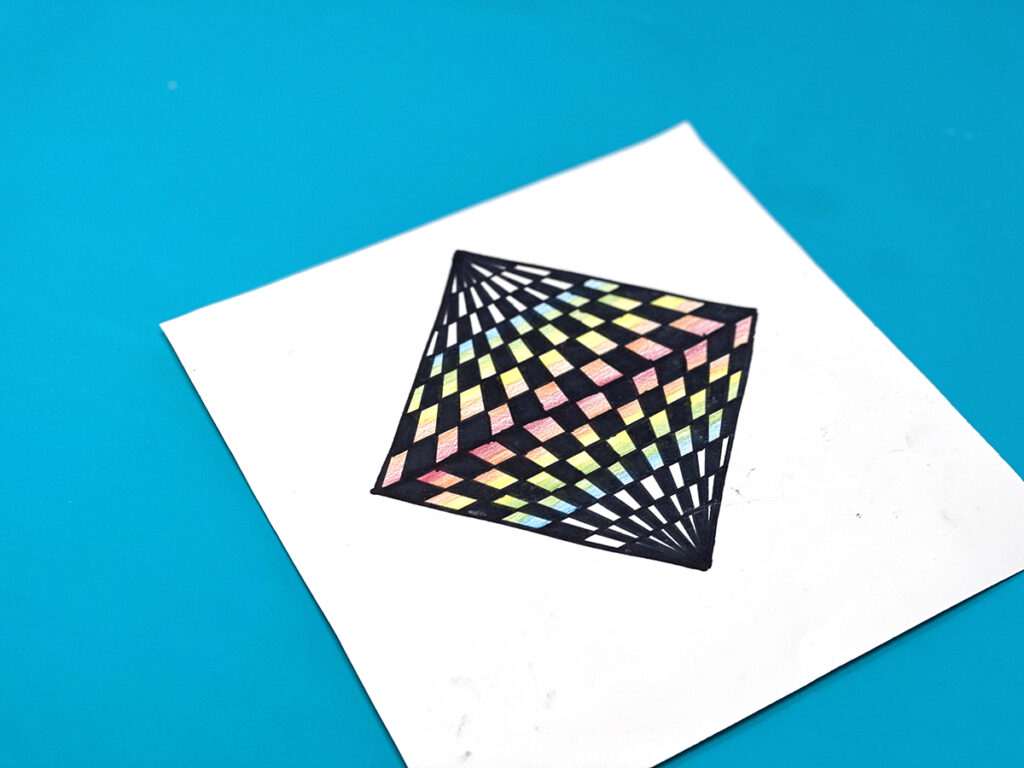 Optical illusions are always exciting for students, and learning how to make them is even better! Some op art designs require more math and complexity, while others are on the simpler side. These op art sphere and cube designs are perfect as an introduction to your younger artists. Check out this video for a step-by-step guide to create them.
If you plan on doing more complex op art activities with your advanced or high school students, these simple drawings will make great bellringer prompts. Connect several spheres and cubes to create more elaborate patterns and compositions. For more op art lesson ideas, check out the Connecting Op Art and Math in FLEX Collection.
For a brief introduction to op art that you can share with your students, check out the FLEX video below:
Suggested materials: Pencil, markers, ruler, paper
Suggested grade levels: Elementary, middle school, high school
7. Color Mixing Lines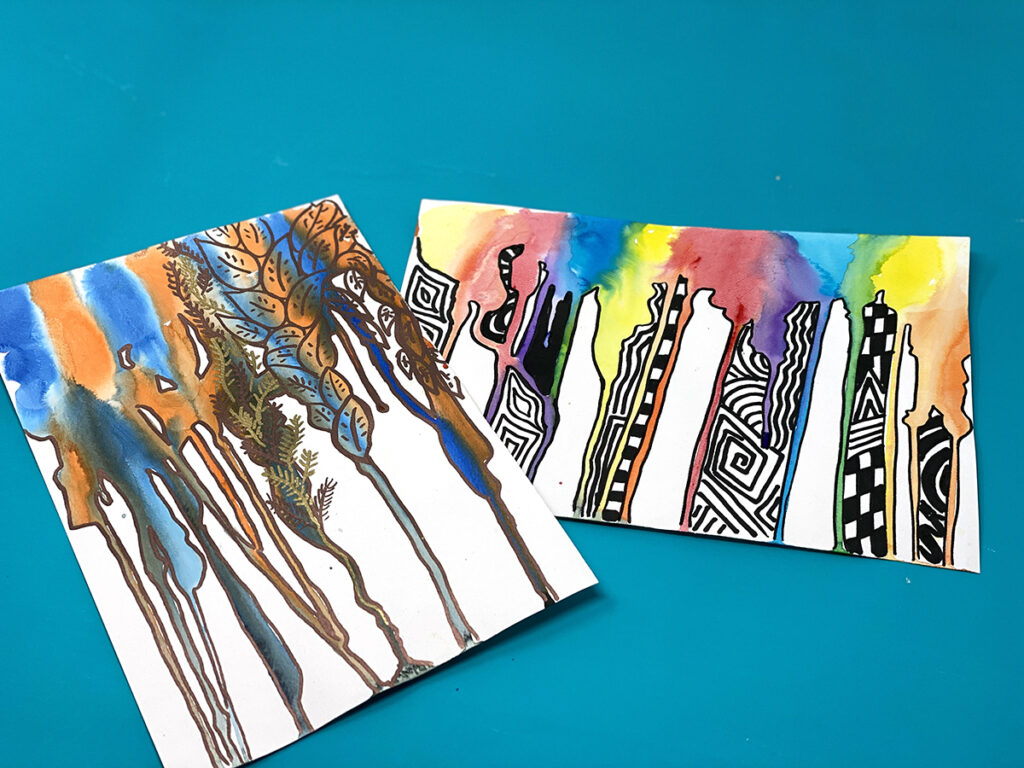 The process of color mixing never ceases to amaze students, no matter how many times they have experienced it. This activity allows students to observe color mixing and explore creative drawing processes.
To start this project, students use a water-based marker or watercolor paint. If students use markers, create shapes of color right next to or slightly overlapping each other. Prep an eyedropper filled with water or a paintbrush dipped in clean water. Stand the painting up vertically and carefully drop water on the paper. Watch as the water mixes with the color and drips down the page together.
Use the same method with watercolor paint with a wet-on-wet technique by painting the paper with water first. Add color with the paper held vertically.
Once the paint drips are dry, students identify the positive and negative shapes created by the drips. Students can trace the shapes and fill in designated areas with line patterns.
Suggested materials: Water, watercolor, markers, paper
Suggested grade levels: Elementary, middle school
Alexander Graham Bell said, "Before anything else, preparation is the key to success." With all that art teachers have to do daily, we understand the importance of preparation. However, there are only so many hours in the day, and sometimes we don't have enough time to get it all done! If you find yourself behind, overwhelmed, or stuck, try one of these activities. They are sure to engage students from start to finish, adaptable for all grade levels, and you can easily tie them into your existing curriculum when you're in a pinch.
What's your go-to lesson when you are in a pinch?
How do you prep in advance for a last-minute activity?
Magazine articles and podcasts are opinions of professional education contributors and do not necessarily represent the position of the Art of Education University (AOEU) or its academic offerings. Contributors use terms in the way they are most often talked about in the scope of their educational experiences.