We are probably all familiar with Picasso's Guernica, which spoke to the horrors of war, or The Guerrilla Girls, whose actions shed light on gender inequalities in the art world. We probably would coin them as activists as well as artists since their art is a call for social change. But have you heard of the terms artivism and craftivism? These terms are relatively new in the art scene. However, they are continuing to become more well-known, reflecting the growing tensions in our social and political climate.
In this article, we will learn about artivism and craftivism along with inspiring artists and lesson ideas.
What are artivism and craftivism?
Both artivism and craftivism are portmanteaus, combining the words "art" and "craft" with the word "activism." Both are peaceful yet persuasive ways to fuse the power of visual art with the strategic planning of activism to promote social change.
Artivism has been said to have originated in Los Angeles in the late '60s. However, Steve Lambert of The Center of Artistic Activism reflects that "there was always something that came before. When you start looking closely, every successful activist movement involved creativity, culture, and innovation… All successful activism is artistic activism." Throughout history, art has advocated for social change in various ways. Because visual art is easily accessible and evokes strong emotions, artists and their work have been vital in protests for decades.
Craftivism was coined much more recently in 2003 by artist Besty Greer and focuses more on "practices of craft such as knitting, sewing, and other 'domestic arts.'" These craft-based art forms have historically been considered "women's work" in a degrading way. This makes for a strong yet complex parallel with social change in the area of feminism.
Spotlighting artivism and craftivism can show students that their voices and their art have power. Art can be so much more than just "raising awareness" around existing issues. Artivist Dannie Snyder encourages us that "good artivism should inspire critical thinking and empathy" and challenge our viewers to come to their own conclusions.
Consider taking some time to critically examine your curriculum and the narrative it tells. Use these questions as a guide as you reflect on your content:
What narratives does your curriculum consistently come back to?
Is your curriculum inclusive of all of the students in your room?
Does your curriculum reflect diverse cultures and perspectives?
Does your curriculum regularly encourage a safe classroom climate?
Does your curriculum repeatedly empower all student artists to have and share their voices?
As we dive into Black History Month and beyond, let's celebrate the powerful work of these four Black artivists and craftivists:
Note: Be sure to browse each artist's website and work before deciding what is appropriate to show and discuss with your students. Adhere to your district's guidelines and consider your students' age levels.
Bisa Butler's colorful quilts and compelling messages of equity effortlessly capture student attention. Her portraits are lifelike despite being created with bright and bold colors. Butler reflects,
"I feel driven to tell my side of the story—that African Americans have a lot to be proud of; that we take care and love our children; that we believe in family; we value education; we work hard and we belong here. Every human being is equal and I hope people see that when they view my work… We are all in this together and until we know both sides of the story, our history will be incomplete."
Lesson Idea: Challenge students to create a portrait that uses only vibrant and saturated colors. Ask your students to consider what colors they would normally use and demonstrate how to make them more chromatic. Discuss the power of color symbolism and juxtaposing colors to create contrast.
Demond Melancon's intricate beaded designs are breathtaking. Both his Beaded Portrait series and Black Masking series share a level of detail that is sure to get your students talking about using nontraditional media. Melancon's artist bio says,
"Demond Melancon is one of the few artists to pioneer the use of glass beads as an accepted contemporary art medium in the larger arts sector. By reconsidering predominant narratives throughout our history, Melancon deliberately repositions historically overlooked subjects and reimagines institutional portrayal of the Black subject."
Lesson Idea: Students choose someone they look up to. This could be a famous role model or someone they know personally. Demonstrate basic sewing skills and how to apply beads. Students sketch out or print a photo of their chosen person to use as a tracing guide and reference. Students create a patch for their clothes or backpack by adhering fabric scraps with fabric glue to a base material. Embellish with handstitched beads.
Faith Ringgold's moving imagery is sure to captivate your students. The longer you look at her story quilts, the more hidden details you see. Her pieces feel both familiar and compelling. Ringgold's website shares,
"She made her first quilt, Echoes of Harlem, in 1980, in collaboration with her mother, Madame Willi Posey. The quilts were an extension of her tankas from the 1970's. However, these paintings were not only bordered with fabric but quilted, creating for her a unique way of painting using the quilt medium."
Lesson Idea: Students create their own collaborative class quilts. This can be done with paper and glue as a collage or with fabric and fabric adhesive on a base material. Students choose their narratives. They each compose two quilt blocks where one includes writing, and one includes an illustration. Piece the blocks together to form a whole-class quilt to display on a wall in your school.
For another lesson idea that showcases Faith Ringgold, check out the Lesson called Story Quilts in FLEX Curriculum. In it, there are helpful resources to guide your students through the ideation process. For a sneak peek, download the Design a Story Quilt handout.
Download Now!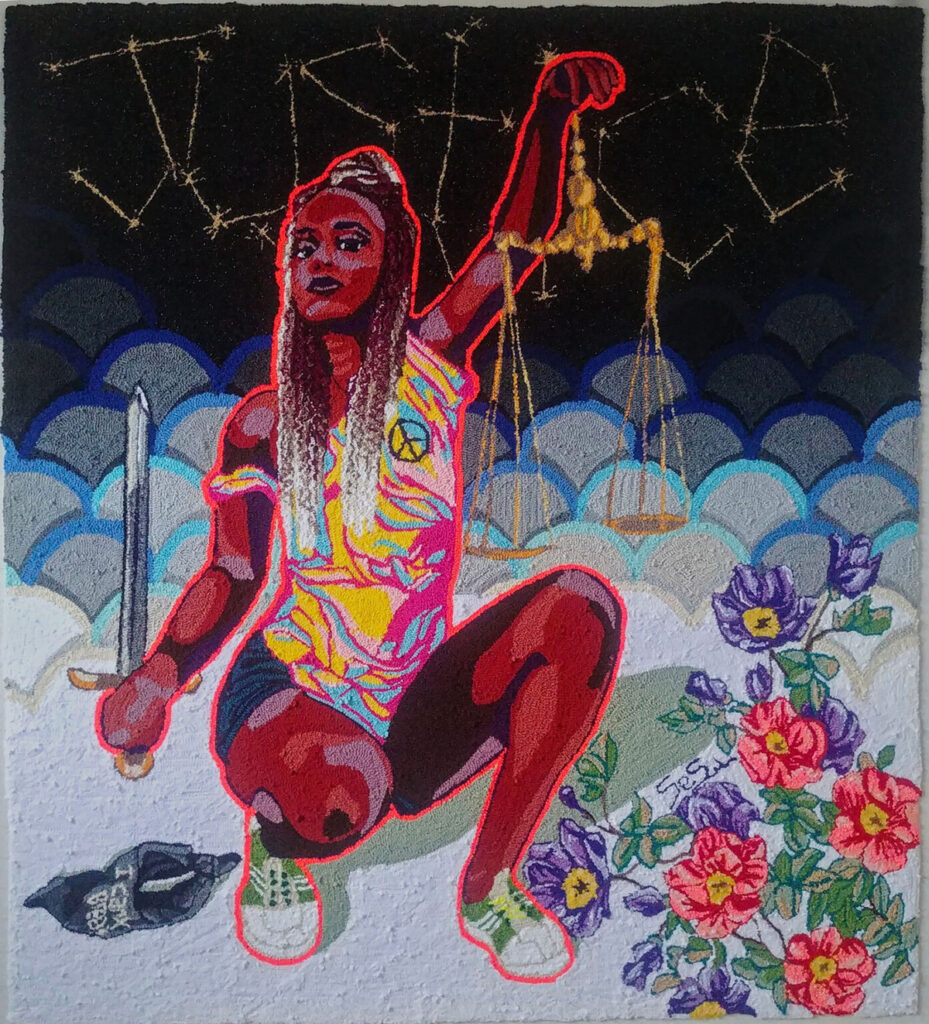 Simone Elizabeth Saunders works in many different types of fiber art as well as drawing, painting, and printmaking. The chromatic colors and enticing textures of her work continue to draw the attention and curiosity of viewers. Saunders's website states,
"Saunders explores themes of the diaspora, ancestorship and Black womanhood. Her colourful textiles highlight motifs and iconography from her Jamaican heritage and engage with socio-cultural factors reclaiming power from oppressive ideologies."
Lesson Idea: Students choose a completed piece from their portfolio that they are proud of. Next, they must recreate that piece using only textiles. This can be done more two-dimensionally as a bas-relief or as a three-dimensional sculpture in the round. Show students a few fibers-based techniques that they can select from with demonstrations and exemplars. Compare and contrast the final process, concept, and outcome to the original. Discuss how the artwork evolved with the changes.
Here are two collective artivist and craftivist groups that will also engage your students:
The Social Justice Sewing Academy uses the tradition of quilting to empower artists to use textiles as a medium for protest and self-expression. The power of collaboration is evident in their extensive online galleries and in this statement,
"With each project, SJSA bridges the differences between age, race, and socioeconomic status to facilitate conversations about and encourage action toward social justice issues in households across the country."
Lesson Idea: Guide students through a brainstorming activity where they determine what social causes are important to them. Create a class quilt with paper or fabric. Each student creates their own quilt block to represent their chosen cause.
The Yarn Mission was founded in 2014 as a response to the shooting of Michael Brown and the ensuing unrest in Ferguson, Missouri. They function as a collective, highlighting work by Black artisans in articles and through their shop. They describe their vision as follows,
"The Yarn Mission centers the lives and livelihood of Black Women. We seek to support Black folks wherever they are with whatever they are doing (whether that is knitting-related or not)."
Lesson Idea: As part of a critique, put your students in collectives of their own. Group students by shared interests. Have them practice supporting one another by sharing another collective member's work with their group and then the class as a whole.
Taking time to highlight artivism and craftivism can draw your students in through intense messages and the captivating use of nontraditional media. Try out some of these lesson ideas to infuse new artists into your curriculum. In doing so, you can create opportunities for students to craft meaningful work that can promote critical thinking on relevant topics. It is a way you can give your students more options to visualize their own voice in their artwork.
Are you looking for more information centered around Black History Month?
Are you looking for more resources about racial equity in the art room?
How do you celebrate Black History Month in your art room?
Which new artists are you most excited to share with your students?
Magazine articles and podcasts are opinions of professional education contributors and do not necessarily represent the position of the Art of Education University (AOEU) or its academic offerings. Contributors use terms in the way they are most often talked about in the scope of their educational experiences.