How to teach the Elements and Principles of Art continues to be a hot discussion topic among art teachers. Some of us feel they are the building blocks of solid lesson planning and should be featured prominently. Others feel that they come naturally to students and can merely be referenced in passing.
Some of us love the traditional E's and P's but just can't get on board with the Contemporary Elements. For others, it's the opposite. Whatever your stance is on the Elements and Principles, we support you! It's important you do what works best for you and your students.
Therefore, we've created some helpful downloads that can be used in a variety of ways in your classroom. Pass them out as reference guides for your students, hang them in your classroom, or use them for your own lesson-planning purposes.
Traditional Elements and Principles
Download your copy of Traditional Elements.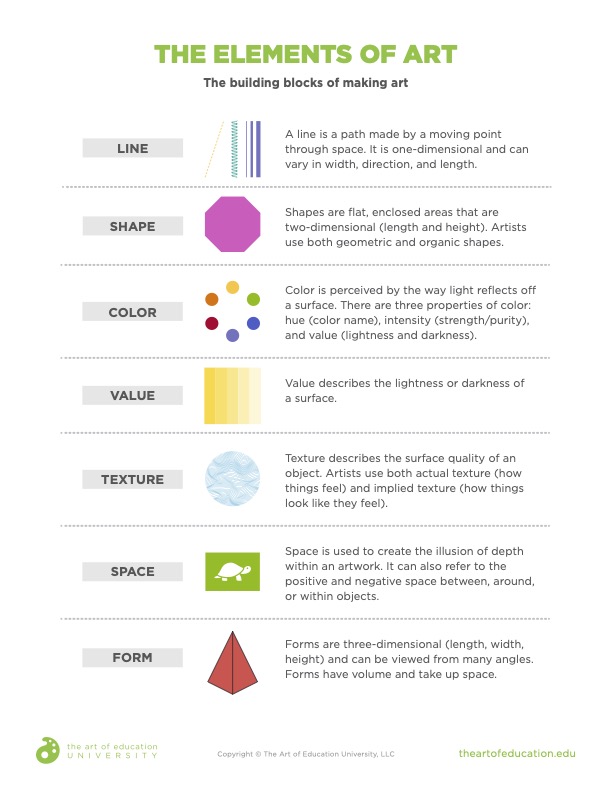 Download Now
Download your copy of Traditional Principles.
Download Now
Contemporary Elements (aka Postmodern Principles)
In addition to the traditional Elements and Principles, over the last few years there has been a growing and changing list of Contemporary Elements (or Postmodern Principles). Many teachers have been using these at the secondary level. Although the list is continuously in flux, we have compiled the seven most common ideas in the field for you in an additional download. These ideas would be great to include as vocabulary or to use as themes in your classroom. They are a great way to expand your students' art language beyond the typical elements and principles definitions.
Download your copy of Contemporary Elements.
Download Now
If you're interested in reading more on this topic, check out these articles:
And, if you're looking for even more ways to bring new ideas into your art curriculum, check out the course Designing Your Art Curriculum where you'll dive deep into different teaching philosophies to find the one that best suits your students and your teaching style.
How do you incorporate the Elements and Principles in your art room?
Do you use Contemporary Elements/Postmodern Principles in your curriculum?
Magazine articles and podcasts are opinions of professional education contributors and do not necessarily represent the position of the Art of Education University (AOEU) or its academic offerings. Contributors use terms in the way they are most often talked about in the scope of their educational experiences.