Although I'd love to use canvases with my students on a regular basis, the reality of my budget means we're usually painting on paper. When we do have a project or two where we can bust the canvas out, I can see the excitement in my students' eyes. The novelty of a different surface is a welcome change of pace.
I started thinking, why not push this idea even further? If you can put gesso on it, you can paint it.
Here are 7 unconventional painting surfaces you should try with your students!
1. Globes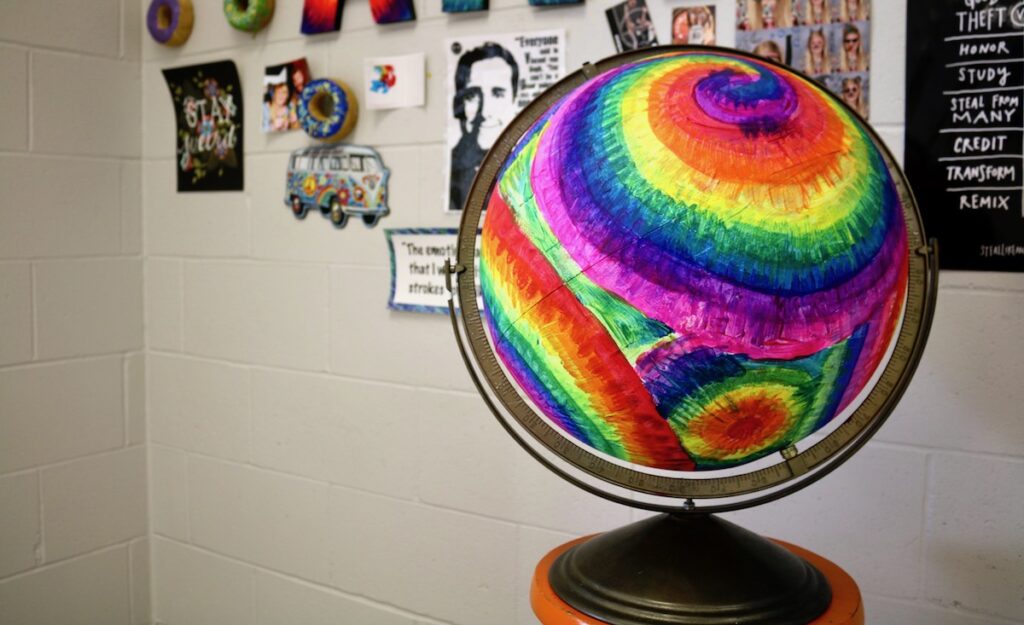 Have you ever tried painting on a globe? There is something about painting on a sphere that makes the painting process super fun. If you've been to an antique store you know globes can be expensive. But every once in a while you can find an inexpensive one that has seen better days. Garage sales, swap sites, and even your own social studies department are great places to look!
If you're having trouble finding globes, try other spherical shapes. Old sports balls are another great option!
2. Toys
Maybe you have some old toys around your home from when your kids were young or even from when you were a kid yourself. Most likely they're sitting in a box collecting dust. Why not make use of them in your classroom? Of course, thrift stores, garage sales, and flea markets are also great places to hunt. You might even consider asking your students to bring in old toys they'd like to paint.
3. Pizza Boxes
Do you feel as if there are pizza parties happening every day at your school? Between student organizations and the staff lounge, there always seems to be pizza boxes laying around. These are a great alternative to canvases!
Although they don't produce the same look, they can still produce the same type of feel. Make sure to pick and choose your pizza boxes carefully because, well, some are a little gross. Most of the time, a little gesso will take care of those grease spots. You might even consider checking with a local pizza shop to see if they have any boxes to donate.
4. Metal Items
Metal is a great surface for paint. These items can vary from antique or vintage items like wagons, oil cans, or cream cans to recycled items like mint or cookie tins and soda cans. Using metal items is a great way to give your students a different painting experience.
5. Furniture
Using the furniture in your classroom is another way students can enjoy a new painting experience. Maybe there is a bench or table in your school in need of a little love. You could even do a legacy project with the stools or chairs in your classroom. Students will have to use their creativity to transform the furniture in a way that makes sense with its shape.
6. Leaves
Using resources in nature also makes for a fun painting experience. Painting on leaves is very similar to painting on paper. However, the natural element makes a difference to our students. The key to this is finding leaves right as they have fallen off the trees. If a storm ever comes through and knocks down tree branches go pick those leaves while they're still green! Fresh leaves are easier to press and won't crumble or break.
7. Old Shoes
Many of us probably try to donate many of our old shoes and sneakers. However, sometimes they can be so worn out they just end up in the trash. Instead, try saving your worn out shoes to use as an art project later on! This gives students a chance to think about design as well. Could they design shoes someone would actually wear? Or, students could push the boundaries of what shoes could become. There are limitless possibilities!
So, the next time you're pining for canvases you just don't have, try out one of these suggestions instead! You can also put the question out to your students. "What can we gesso? What can we paint!?" They're sure to come up with some creative ideas.
No matter what surface you choose, mixing things up will be an engaging process for your students. They'll love updating a worn or obsolete item and give it a second life!
Have you ever used an alternate surface painting project with your students? How'd it go?
What unconventional surfaces do you like to paint?
Magazine articles and podcasts are opinions of professional education contributors and do not necessarily represent the position of the Art of Education University (AOEU) or its academic offerings. Contributors use terms in the way they are most often talked about in the scope of their educational experiences.