As educators, we come across a vast number of students from all walks of life. In Statistics On How Poverty  Affects Children in Schools, author Jana Sosnowski shared, "Approximately one in five children in the United States live in poverty, according to the American Psychological Association, a status that affects more than housing status and food supply." This is something that has triggered lots of talk about educational reform.
Many circumstances students living in poverty encounter are beyond their control. They can face many challenges that affect their brain development, emotional well-being, relationships with others, and school achievement. When serving in schools with students who are living in poverty, it is important to know how to do our best to help and empower our students.
Check out these 5 concrete ways to help students living in poverty.
1. Have high expectations.
When you have students who are living in poverty, compassion is important. But, it does students an injustice if you do not hold them to high expectations. As educators, we want our students to do their best and succeed in our class and life. Holding students to high expectations allows them to work toward reachable goals that can empower them with intrinsic motivation. This is important because once a student leaves your class, hopefully, you have instilled in them the power to work hard toward their goals and rise to the occasion.
Here are 4 ideas to try.
Give students the opportunity to set goals. Then, coach them to achieve their goals.
Hold students accountable for classroom expectations. Have conversations about why they are important to follow.
Expect the best out of students when it comes to their work.
Be a role model. Share your goals and high expectations for yourself with your students.
2. Expose students to places outside of the classroom.
Many times students' experiences can be limited due to their means and their parents/caregivers experiences. It is integral to show students the world around them and open their eyes to what the world has to offer.
Here are 4 ideas to try.
Teach students about different career options, arts-related or not.
Bring in artists and other career professionals to speak to your class.
Get students off school grounds and take a field trip to a local museum.
Use the web to take a virtual field trip through museum websites or videos.
Finally, be sure to connect learning in the classroom to real life experiences. This will truly enhance your students' perspective as they learn and move through life.
3. Build relationships with your students and their families.
Building relationships is a key aspect when it comes to a creating a positive learning environment. It also helps foster mutual respect and trust with your students and their families. One factor those living in poverty often face is high mobility due to unstable living situations. Be a source of consistency. Let your students and families know they can trust you and make them feel welcome.
If you're interested, we have a PRO Learning Pack dedicated to building positive relationships. You can explore a variety of activities for building trust and engagement including how to use art processes to build positive social and emotional skills.
4. Teach them social-emotional learning strategies.
Students who live in poverty can have trouble focusing in school because of things troubling them in their personal lives. It's important to teach positive social and emotional skills that can build trust, respect, community, and personal growth. These skills can also help students learn to regulate their feelings and transition to a mindset ready for learning. Let's take a look at three ideas.
Breathing Techniques
A great way to teach students how to regulate their emotions is to take a step back and do some breathing techniques. If your school does not already teach breathing techniques, you can easily do this in your classroom.
3 Strategies to Try:
Beach Ball
Have students pretend they are holding an imaginary beach ball. When they inhale they pretend the ball is expanding. While they exhale they pretend the ball is squeezing inward.
Square
This breathing technique simply has students take their finger and trace a square in front of them in the air. As students make the first line for the top of the square, they inhale. As students make the second line of the square going down, they exhale and so on. You can repeat this as many times as you want.
Bunny Breath
This is a great breathing strategy, especially for your youngest students. Have your students pretend to be rabbits. They will need to take three quick sniffs in the nose, and one long exhale out the nose.
Calm Down Corner
A Calm Down Corner is a space in your classroom that allows students who are not regulated or in the proper mindset to begin learning to go and regulate themselves. You can have students use a stress ball, glitter bottles, or breathing techniques to begin to calm down. You may also want to have a self-reflection sheet available to help students process their feelings.
Classroom Circles
One way to build community is through classroom circles. This technique involves students getting in a circle and sharing based on a prompt given by the teacher.
Here is how it works:
Students get in a circle with the teacher. Ground rules should be shared to promote trust, respect, and honesty.
The teacher shares a prompt for students to answer.
The only person talking must hold a "talking piece." This practice allows each student to have a turn without interruption.
When everyone who wants to speak has spoken, the teacher can close the circle and thank the students for sharing.
In general ed circles, sometimes this technique is practiced daily. However, if you are a teacher who doesn't see your students every day, you could try implementing it once or twice a month.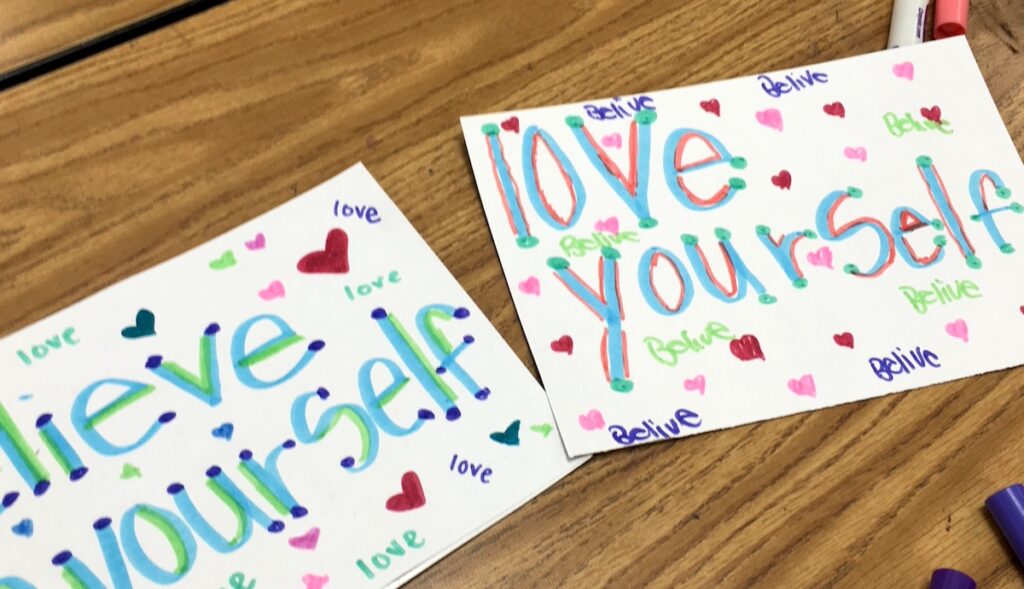 5. Create a positive classroom culture
Making sure you have a classroom that exudes positivity and community is important. Be sure to teach your students to be compassionate and respectful toward one another. It can be helpful to have specific conversations about not judging others, especially on outward appearances. Team building exercises, modeling kindness, having mutual respect, and sharing the importance of accepting others are great ways to make this happen in your classroom.
Overall, students living in poverty are just like other children, but they can encounter limitations and barriers that make it harder to learn. We must do our best to make sure each child knows how special they are and that no matter what problems they may face, there is someone who loves and believes in them.
What tips do you have for teachers working with students living in poverty?
Do you use social-emotional strategies in the classroom?
Magazine articles and podcasts are opinions of professional education contributors and do not necessarily represent the position of the Art of Education University (AOEU) or its academic offerings. Contributors use terms in the way they are most often talked about in the scope of their educational experiences.