When it comes to teaching watercolor, do you feel confident about pushing your students' work to the next level?
Do you have your students split their paper into sections, complete various watercolor technique experiments, and then move on to something new? While that's one way to introduce the medium, there are so many other options to explore.
Let's look at nine artists who use watercolor in their work to help inspire your students and inform your teaching practice.
Note: Be sure to review all resources and preview all artists before determining if they are appropriate to share with your students. 
1. Emma Larson
Emma Larson creates abstract watercolor paintings. When looking at her work, you'll see she embraces the fluid nature of watercolor and wet-on-wet techniques allowing edges to bleed and shapes to morph. Her paintings make you want to search for hidden figures and recognizable shapes.
Look at her paintings with your students and practice painting using the wet-on-wet method.
Instagram: @zebrakadebra
---
These artists are a great start to any watercolor project or curriculum. If you're looking for specific information about teaching watercolor to students, be sure to check out these resources!
Watercolor Painting Basics PRO Pack found in PRO Learning
Color Theory through Watercolor PRO Pack found in PRO Learning
---
2. Elise Morris
Surprise! Elise Morris actually works with acrylics. But her work looks so much like watercolor; we're going to explore it anyway. Her paintings feel light and full of depth. Most pull inspiration from nature. Each layer is transparent and fluid. She often starts by drawing leaf shapes in pencil. She allows many of those lines to remain and sometimes leaves shapes unpainted.
Have students think about how they can show their process in their work.
Website: elisemorris.net
3. Justin Margitich
Justin Margitich creates abstract paintings by mixing watercolor and acrylic paint. He uses acrylic paint to create hard, straight edges, and pairs that with the fluid nature of watercolor. The contrast of the two creates dimension and contrast in his work.
Start by having students look at his paintings. Next, encourage them to explore working with acrylic and watercolor paints in their sketchbook. This can help students to understand the properties of each medium.
Website: justinmargitich.com
4. Ali Cavanaugh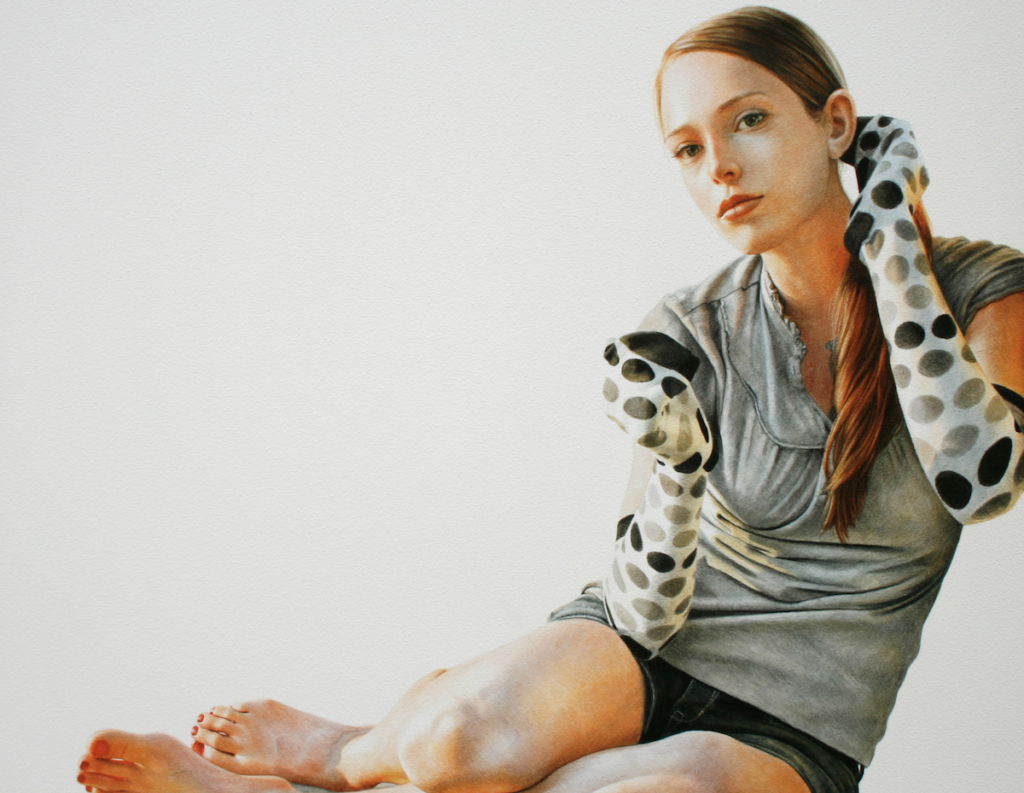 Ali Cavanaugh uses watercolor on a wet kaolin clay surface and calls her process "modern frescoes." Most of her paintings are realistic portraits allowing you to see each layer of color that blend to create the skin tone. When visiting her website make sure to watch the short film that tells you more about her and her process.
Have students explore how a medium and surface work together. To begin exploring have each student select three to five different surfaces. Next, have them try various watercolor techniques and reflect on the results.
Website: alicavanaugh.com
5. Claire Cowie
When you go to Cowie's website, you'll see a wide range in terms of technique and media. My favorite body of work—and a great example of watercolor—is Passages 2016. She uses bright, vibrant colors that seem to glow. Her work incorporates negative space as well as shape, color, and depth. Her painting, Lincoln Park Conservatory, is made mostly of lines, squares, and rectangles arranged to make the viewer feel like they're falling to the painting.
Teach students about masking and the power of negative space. You might challenge students to create a painting by painting only the negative space, allowing the subject to be the color of the paper.
Website: clairecowie.com
6. Aitch
Aitch is an illustrator who works for a wide range of companies like Chobani and PAI skincare. Her paintings are playful, full of color, and use a lot of repeated patterns. You can see her illustrations come to life in this Chobani animation.
Have students study her work and learn how to create and repeat a pattern of their own.
Website: aitch.ro
7. Jennifer Tyers
Jennifer Tyers is an artist from Tasmania who paints colorful landscapes. Her work showcases the vibrancy of watercolor by combining reality and pure imagination. Tyers' pieces are full, with little negative space.
Have students look at her work and see how she uses repetition to keep her paintings from becoming chaotic.
Website: jennifertyers.com
8. Jaakko Mattila
Jaakko Mattila creates paintings that glow and vibrate—sometimes to an unsettling degree. Make sure to watch this video to get a glimpse of his process.
Look at his work as you teach students about color theory. Reimagine how you have students explore the color wheel.
Website: jaakkomattila.fi
9. Enya Todd
Enya Todd is an illustrator who specializes in painting food and florals. She has experience working on editorials as well as package and greeting card design.
Have students explore her website to see the range of her work and projects. Then, talk to them about what it means to be commissioned to create art.
Website: enyasartofpatisserie.com
Watercolor is an incredible medium to use for all age levels. Students enjoy exploring techniques, and the cleanup is simple—compared to working with tempera, acrylic, or oil paints. At the secondary level students often treat watercolor like acrylic, with a thick application and little drying time. However, once students see other artists' use of watercolor, they can better understand how to apply it to their own work.
Who are your favorite watercolor artists to share with students?
What's your biggest frustration when it comes to teaching watercolor to your students at any level?
Magazine articles and podcasts are opinions of professional education contributors and do not necessarily represent the position of the Art of Education University (AOEU) or its academic offerings. Contributors use terms in the way they are most often talked about in the scope of their educational experiences.