Spring has sprung, and the natural inspiration for artmaking is blooming.
Flower-inspired art has a long history. From Ancient Egypt to Impressionist painting, flowers have been a pleasing and ever-present subject in all types of visual art. This makes the subject familiar and less intimidating.
Familiarity, approachability, and visual delight are excellent components for high engagement.
Flowers are not only pleasing to the eye, but they provide a gateway to many different elements and principles of design. Additionally, floral-inspired art allows students to incorporate cross-curricular connections. For example, there is mathematical symmetry in petal formation. Science units are rich with the life cycle of plants. And the literary connections are endless. No matter what approach you take, the results will be vibrant, uplifting, and educational.
Here are 6, 2D flower lessons to try with your elementary artists.
1. Tulip Town
Materials
Drawing paper (9 x 12")
Pencil
Black permanent marker
Markers
Crayons
Tulip Town is a line and color-focused lesson students can complete in a single class period. Calling something any kind of "town" will hook your kindergarten artists immediately. Adding faces makes the project fun and silly.
Be explicit with your line vocabulary while demonstrating this drawing. It's important to build familiarity with more complex terms. Prompt your students to think of different emotions as they draw facial expressions. You might even suggest they draw inspiration from their family, friends, or pets.
Encourage creative backgrounds by asking what might be found in the spring sky. Kindergartners will get inventive with a few imaginative questions. And there's always someone who knows everything about bugs. Enjoy their explorative processes.
At the end of class, have a short gallery walk to share the different creatures in each masterpiece.
Check out a similar floral tutorial here.
2. Mandala Flowers
Materials
Drawing paper (square or 9 x 12")
Pencil
Black permanent marker
Your favorite coloring tools
A mandala is a symbol that signifies the transformation of a universe of suffering into one of joy. With origins in Buddism, mandalas are created throughout the world.
Start this project by finding your favorite mandala artist or region of inspiration. Mandala flowers can be a little tricky for tiny artists, so try it with your second-grade friends (or older).
This lesson requires focus and patience. Set the calm and steady tone of this project by discussing the meditative quality of creating a mandala. Talks of symmetry, balance, and harmony will generate a peaceful atmosphere for optimal artmaking.
You can choose to take a cross-curricular approach by focusing on fractions or symmetry. Analogous color theory, as well as value studies, will make any mandala flower look exquisite.
No matter how you introduce this project, your students will walk away enriched on many levels.
3. Monet Water Lilies
Materials
Heavy-weight drawing or watercolor paper (9 x 12")
Oil pastels
Watercolor paint
Paintbrush
Cup of water
As students reach the age of eight or nine, they start to become hyper-critical of their ability to render realistic depictions of what they see.
Claude Monet's impressionist series, Water Lilies, is an excellent introduction to the concept of capturing a mood versus a literal representation. Third graders will rock this project as it's a no-pressure process guided by feeling and color.
4. Contour Flowers
Materials
Heavy-weight drawing paper (4 x 6")
Reference photos of flowers
Black permanent marker
Water-based markers
Paper towel
Cup of water
This lesson provides the opportunity to discuss observational and continuous contour line drawing methods.
Teach your students about the importance and acceptance of imperfection. The story, Ish, by Peter H. Reynolds, is a great compliment to this lesson. Beautiful and meaningful art does not have to look realistic. Try demonstrating an example you have not practiced. Allow your students to see you working on something for the first time. Modeling authentic experiences is affirming and validating for your growing artists.
Once you've defined and demonstrated contour line drawings, it's time to get to work.
If you're able, collect clipboards or sketchbooks and have your students do observational contour practice outside. Reference photos of flowers and leaves will be essential on rainy days.
The final detail is the addition of a "watercolor" splash. Of course, you can do this with actual watercolor spatter, but the atypical use of markers on paper towels dipped in water makes this an accessible lesson they can share at home.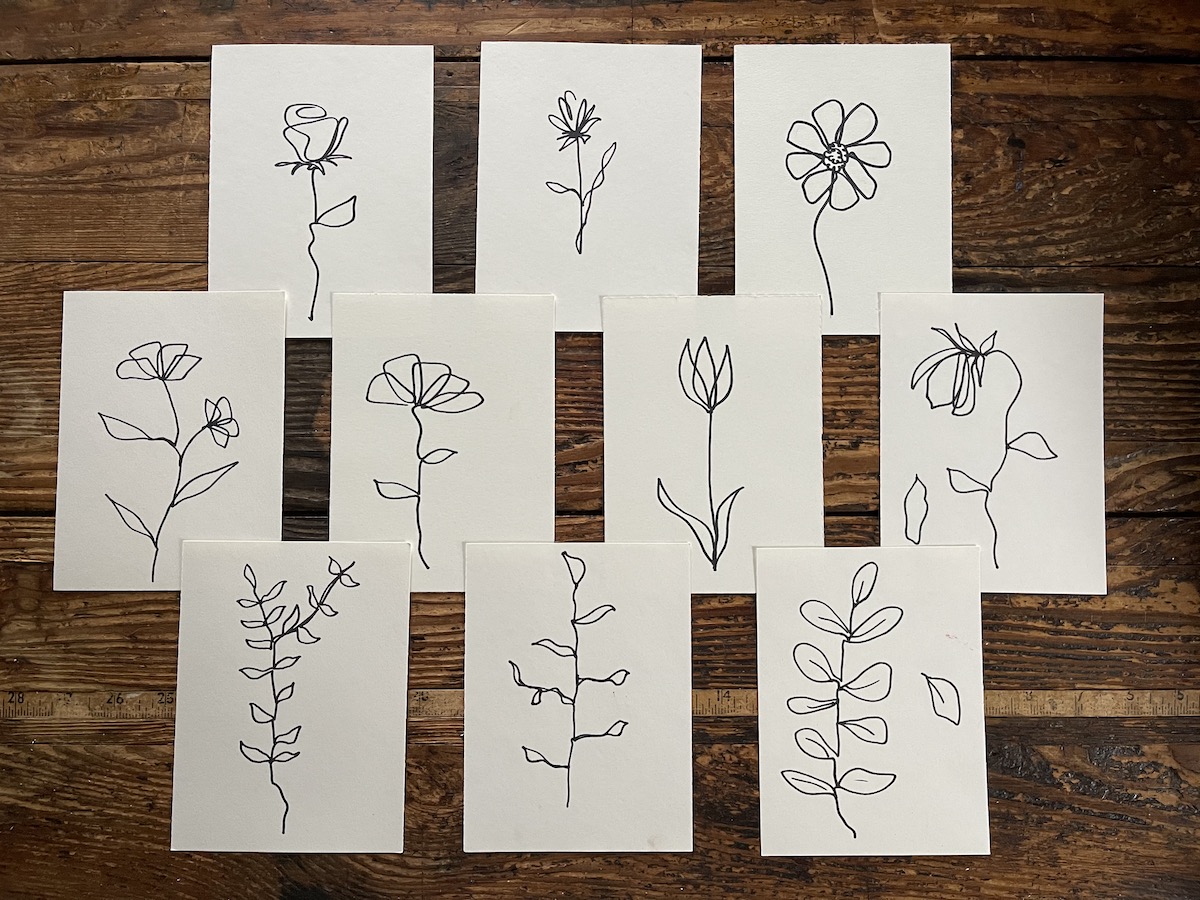 Fourth graders will be contour line experts by the end of this project. But don't be shy in introducing this lesson to your youngest learners. Their less developed motor skills will often produce magically expressive lines.
5. Jen Aranyi-inspired Succulents
Materials
Super heavy-weight drawing or watercolor paper
Pencil
Black permanent marker
Water-based markers
Small round paintbrush
Cup of water
White gel pen
Guided by the work of Maryland-based artist Jen Aranyi, introduce your students to the sophisticated and calming beauty of succulents. Fourth and fifth graders have the dexterity to manipulate fine lines and will create the most delicate plants.
Give your students a variety of photo resources, as well as ample practice time to build confidence.
Once the final marker lines have been drawn, provide a few choices for adding color. Watercolor paint looks incredibly well but can be tricky to layer.
Markers plus water are manageable and create super vibrant colors. And don't underestimate the classy look of a minimalist black and white drawing.
Looking for more floral inspiration? Check out these articles for more nature-inspired lessons:
6. Cherry Blossoms
Materials
Watercolor paper
Pencil
Watercolor paint
Round paintbrush
Cup of water
Paper towel
Brown crayon
Thin red permanent marker
Ultra-fine-point black permanent marker
This ethereal cherry blossom lesson pushes older elementary crowds beyond their comfort zone. That's where the most growth happens. One of the main objectives of this project is to build confidence in manipulating a brush to achieve a certain shape and color gradient. It's a specific skill.
By the spring of fourth and fifth grade, it's helpful to incorporate skill-based lessons into your curriculum. Technical skills introduced at a young are useful for more complex endeavors in middle and high school.
Consider giving your class one full day to practice making the flower petals. Learning how to increase or decrease pressure to create an intentional shape is not easy. But it's necessary. Let your students feel uncomfortable as you coach them through the process with explicit instruction. The pride they'll feel upon completion of their delicate compositions will be magical.
No matter what project you choose to try, students will be engaged and hooked by the familiarity and vibrancy of flowers. There are so many approaches, elements, and principles of design to incorporate. So take your pick, adapt, and have fun!
How do you use nature as inspiration for artmaking?
Do you implement cross-curricular lessons in your classroom?
Magazine articles and podcasts are opinions of professional education contributors and do not necessarily represent the position of the Art of Education University (AOEU) or its academic offerings. Contributors use terms in the way they are most often talked about in the scope of their educational experiences.