It's no secret that play and exploration are at the heart of TAB classrooms. However, eventually, finished work begins to emerge amidst false starts, happy accidents, and a-ha moments. It's exciting, messy, and beautiful. But, as students get familiar with centers and routines, they sometimes need a bit of a nudge to create meaningful, finished work; they need a way to share their new skills and knowledge. In a TAB classroom, that's where WOW projects come into play.
What is a WOW project?
WOW stands for "Wonderful Original Work of Art." Invented in a Teaching for Artistic Behavior classroom by Barbara Berry, a TAB educator in Brunwick, ME, the WOW cycle is a way to motivate students to create long-term projects. Students learn to envision a piece of art, plan it out, and execute it by a deadline.
WOW projects are generally presented when students have enough background knowledge about skills and techniques to plan their own projects. Students may decide to be inspired by artists, ideas, or techniques that have been taught throughout the grading period or school year. They may also choose to research something new.
With young students, play is most important and WOW projects tend to emerge naturally. Projects that take one or two weeks are a good fit for their abilities and attention spans. With older students, it can be a different story. The magic of play and experimentation wears off, and it's time to get to work.
How do WOW projects work?
To count as a WOW, the piece of art must meet a set of criteria. The criteria vary from classroom to classroom, but the idea is the same. You can see one example below.
It must be original
It must be carefully crafted
It must take time (2-3+ weeks)
It must show your growth as an artist
It must be documented and have an artist statement
In other words, a WOW project should be a piece of artwork on which a student works hard and would be proud to share. It's a good idea to give students a place to plan their project, so I've shared my WOW planning sheet with you below. Download it and use it with your students!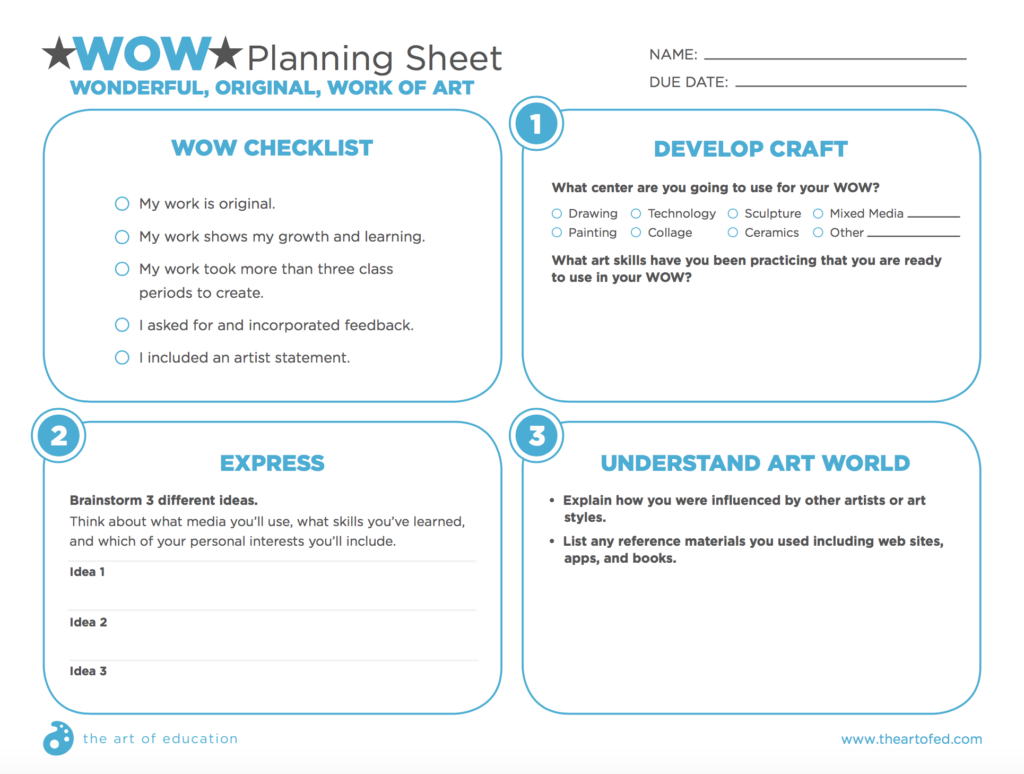 The TAB room can be a magical place. When your students are looking for an extra challenge, it's time to bring out a WOW project. Doing so will help motivate your students to dive even deeper into their artwork.
If you're looking for more information about running a choice-based art room, you'll want to take a look at the Choice-Based Art Education course. You'll have the opportunity to study TAB, Montessori, Reggio, and other choice-based approaches to find solutions that work in your classroom. Assessment, advocacy, and management strategies will also be covered!
Will you give WOW projects a try? Do you already use open-ended final projects in your art room?
What kinds of final projects do you your students make?
Magazine articles and podcasts are opinions of professional education contributors and do not necessarily represent the position of the Art of Education University (AOEU) or its academic offerings. Contributors use terms in the way they are most often talked about in the scope of their educational experiences.