Heading back into your building this fall can be a mix of emotions, including concern for the safety and well-being of yourself and your students. With a lack of clarity on a national level, state and local governments have been creating mandates and recommendations for how to return to school safely.
Even within states, inequitable funding and access to resources have made it difficult to standardize any specific practice. As a result, districts are creating operational plans based on a few mandates and a lot of recommendations.
How does it apply to the art room?
Considering the CDC guidelines and because schools are all over in what they can provide staff and students, some ideas might be more possible and relevant to you than others. Unfortunately, some of these suggestions also fly in the face of building relationships with students and creating a more positive learning environment. Other ideas will replace instructional minutes. While this can be challenging and counter everything you've learned about teaching and learning, these ideas prioritize safety above anything else.
Start by preparing yourself to be in your space, which will likely feel and maybe look different than when you left it. You might experience a lot of "what ifs" and anxieties. Your school might have daily changes to their plans, which can be overwhelming. Through all of the unknowns, try to establish a daily routine to help you feel as comfortable as possible.
Below are some ideas specific to art teachers:
***The following are solely ideas and suggestions that may or may not be practical for your classroom. They are not mandates or sanctified by any individual or AOEU.***
Supplies: 
Create a "dirty bin" in your room for supplies to sanitize at the end of each day instead of trying to sanitize items throughout the day.
Have students pick up supplies as they enter and drop off as they leave to avoid walking around the room.
Have students store their own art supplies in ziplock bags to avoid sharing supplies.
Design lessons for each class to minimize sharing supplies across classes.
Have students use a tissue to hold shared materials like pastels or charcoal.
Pre-organize materials as much as possible, and use individual bags or paper cups for easy distribution.
In the Classroom: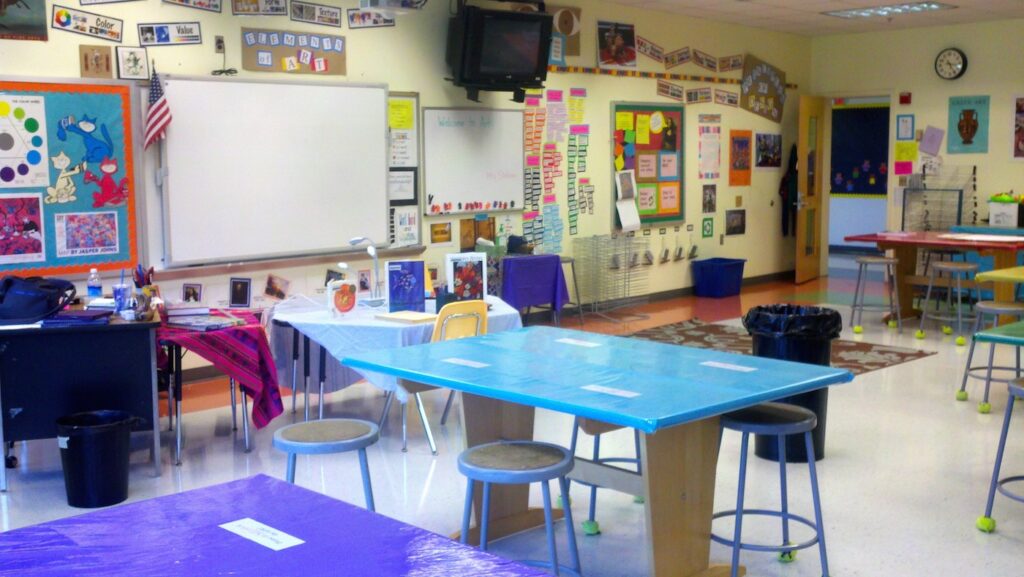 Develop a handwashing routine on their way in and out of the art room.
Identify key touchpoints, like doorknobs, tables, and chairs, to disinfect as much as you can.
Remove unnecessary furniture and equipment from your classroom to reorganize seats and maximize social distancing.
Play soft music while students are working to help create a more relaxed atmosphere.
Open all windows as much as possible and store papers differently to avoid items disrupted by the wind.
Create seating charts for all students, including if the class goes outside.
Have items students might need during class, like tissues and paper towels, available at each table to minimize movement in the room.
Social Distancing: 
Limit your movement throughout the building by calling offices and colleagues instead of visiting.
Take your students outside for instruction as much as possible.
Avoid proximity as a teaching tool and strategy.
Use doc cameras and pre-recorded videos for demonstrations to avoid students congregating.
Spread students out further by moving some to the floor with items like drawing boards and devices.
Use technology like Google programs for students to collaborate and communicate in partner and group work.
Personal Protective Equipment (PPE):
Wear PPE gear, like masks and gloves, at all times.
Store an extra set of PPE gear and change of clothes in your car or classroom for yourself for any reason.
Have masks of different fitting styles in your room for students if they grow frustrated with their own masks.
Keep your daily shoes in a container in your trunk and change them before going in and out of the building each day.
Change your clothes when you get home and shower.
Wear glasses or a face shield to avoid touching your eyes.
Keep sanitizing wipes and hand sanitizer in your car to use before you go home each day.
Resources:
Know your school's protocols for students showing symptoms or sharing their exposure to someone with the coronavirus.
Be informed of your own working rights and what is required by staff.
Have sub-plans prepared and ready for a variety of situations and to be implemented at any point.
Lean on your support systems and colleagues to share ideas and laugh and cry when needed.
Going back into the classroom might come with fear, frustration, and concerns for the safety and health of everyone involved. Establishing a routine for yourself can help you address some of your concerns daily and give you some peace of mind that you're doing what you can to mitigate risk. Some procedures might take a few rounds to figure out the best approach before you can settle into a groove. During this difficult time, allow artmaking to take a back seat as you focus on the health and safety of you and your students. This back-to-school season will be one for the books, but that won't stop us from making the best of our individual situations!
What specific guidelines are you following? 
What would you add to this list?
Magazine articles and podcasts are opinions of professional education contributors and do not necessarily represent the position of the Art of Education University (AOEU) or its academic offerings. Contributors use terms in the way they are most often talked about in the scope of their educational experiences.