There's a reason the Elements of Art and Principles of Design are called "elements" and "principles;" they are the building blocks of art and the foundation of most art classes! Because of their importance, art educators teach their students about them, plan lessons around them, and review them over and over again. To keep you excited about teaching and reviewing these essential terms and concepts day in and day out, switch it up with the ideas below!
Let's take a look at seven innovative ways to teach the Elements of Art and Principles of Design.
Check out FLEX Curriculum for tons of lessons to teach your students all about the elements and principles. A great one to start with is the Basics Collection, which features lessons on color, line, and shape. FLEX also offers hundreds of student-facing resources, including handy overviews, like the ones in the image above, and short, animated videos. If you're interested in getting FLEX for your students, fill out this quick contact form.
1. Use technology.
Design an interactive Google Slides presentation to teach the Elements of Art and Principles of Design like elementary art teacher, Melinda Nguyen. Students drag and drop elements onto the slides to demonstrate their understanding of the designated principle. It's a fun way to incorporate technology and it's perfect for virtual learning.
2. Create an escape room.
Up the interest level and have students review the Elements of Art through a digital escape room, like secondary art teacher, Sabrina Wingren. Students complete several activities to move through the digital environment. Allow students to work alone or in teams. Either way, they'll enjoy the mystery and intrigue of escaping!
3. Incorporate them into a project.
Combine sculpture and the Principles of Design with cardboard attachment techniques. High school art teacher, Suzanneh Fee, requires students to select two principles to demonstrate with cardboard. For an inspiring drawing assignment, sketch sign language hands where each hand represents a different Element of Art. Ashley Mills' students learn to draw realistic hands from observation while also gaining exposure to the sign language alphabet.
4. Make explosion booklets.
Create Elements of Art explosion booklets. Mrs. Lundgren's high school students use the elements to create an abstract painting. Break this down more by teaching one element or principle at a time. After each element or principle, students illustrate it and glue it into their explosion booklets. This is a fun creation students will want to keep playing with!
5. Sketch a visual organizer.
Compose an elements and principles visual organizer like high school art teacher, Mrs. Stesch. Students create rectangles for each element and principle with the name, a student-created example, and a found example. This allows students to review the definitions "at-a-glance" whenever they need to.
6. Incorporate social-emotional elements.
Jonathan Juravich, an elementary art teacher, not only taught his students about the elements and principles, but he also made the lessons into social-emotional learning opportunities. His students discussed how to make good decisions while creating lines and how to be more self-aware through shape. Check out more in the article, 7 Lesson Ideas to Engage Kindergarteners in SEL Through the Elements of Art.
7. Create an interactive wheel.
Make an elements and principles wheel, like middle school art teacher, Jessica Hamilton. On the outside, students decorate the wheel to demonstrate the elements and principles. On the inside, they write the definitions and any key notes.
Here are three ways to make reviewing the elements and principles fun.
Once you've taught your students all about the elements and principles, it helps to continually review them, especially if coming back after a long break. Keep students on their toes and reinforce their learning through fun and interaction.
1. Turn it into a game.
Create a game to make review fun! Cheryl created a memory game with objects related to the elements and principles. This activity requires attention and concentration, which is a winner for any review game! Another game idea is Andrew Kiczek's BINGO boards. Each board has different pictures to illustrate the Elements of Art.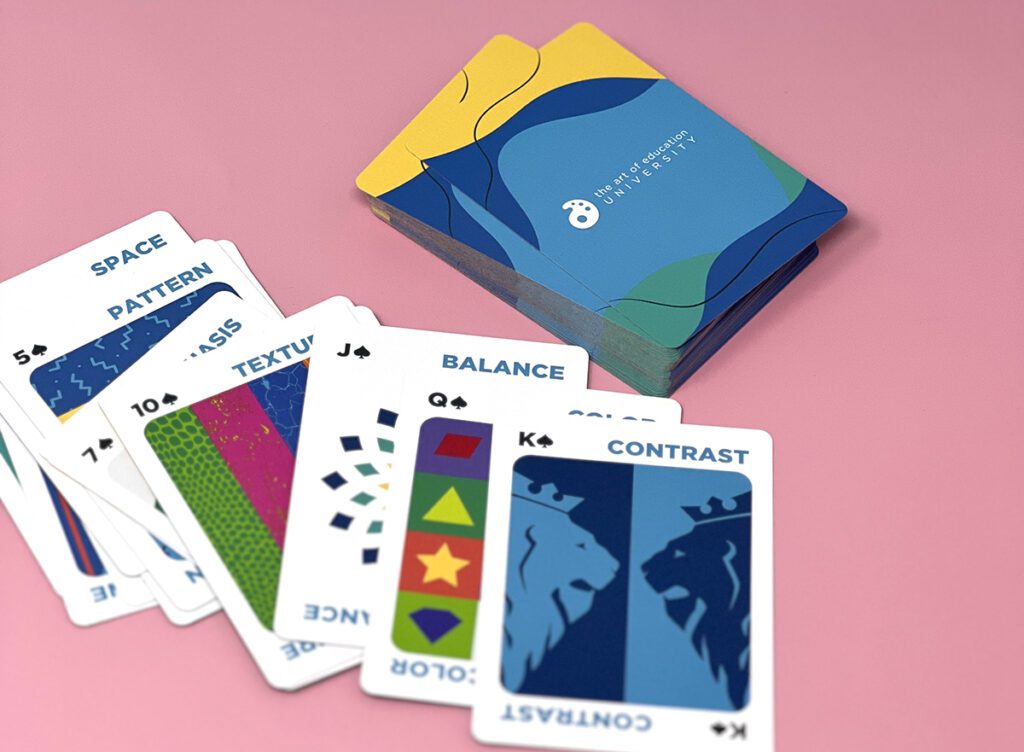 If you were at a previous NOW Conference and received the fun playing cards from the swag box, try out the Elements & Principles Card Games in FLEX Curriculum with your students. Don't miss out on the next conference and swag box! Fill out this contact form to learn more.
2. Make it a short-term project.
Turn the elements and principles into a short-term project. Make a Mark Studios divides a leaf into seven parts for students to demonstrate the different elements in each section. Another small project is to create little flowers like Glittertalesartroom. Each petal is a small strip of paper illustrating the elements.
3. Come up with memory tricks.
Asking students to memorize another set of terms and concepts on top of their other classes can be challenging. Come up with clever ways to kickstart their memory with ice cream! See how Debi West did this in her article, 10 Concepts Every Intro to Art Course Should Cover.
The Elements of Art and the Principles of Design are integral to art and are often a part of state and district standards. They may be a mandatory part of the curriculum but teaching them doesn't have to be boring! Increase the excitement using technology or a digital escape room. Alternatively, make an explosion booklet or visual organizer. You can even use this as an opportunity to incorporate social-emotional learning. After you've introduced these foundational terms to your students, keep the interest alive by reviewing them with a game, short-term project, or memory tricks. Whatever route you choose, have fun teaching and reviewing the elements and principles. Your intentionality will set your students up for success for the rest of the year and beyond.
How do you teach the Elements of Art and Principles of Design?
Share a student-favorite way to review important terms and concepts.
Magazine articles and podcasts are opinions of professional education contributors and do not necessarily represent the position of the Art of Education University (AOEU) or its academic offerings. Contributors use terms in the way they are most often talked about in the scope of their educational experiences.