In the article Opening a New Art Room: An Art Teacher's Cheat Sheet with K-5 Art Educator Allison Krook, we discussed everything you would want to consider when opening a new art room.
Today, we are going to continue the conversation and discuss another hurdle to overcome when starting from scratch, supplies!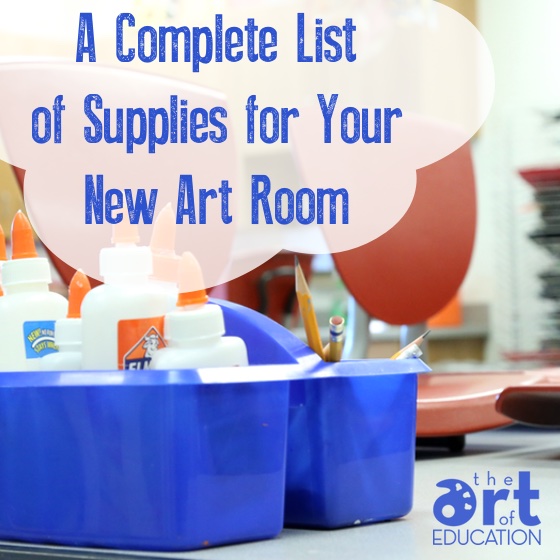 When you inherit an art room, you are usually walking into someone else's junk. This can be very, very bad (we're looking at you musty fabric and bins of dried out markers) but also very, very good (hello vintage printing press and previously donated drawing mannequins). Although you have to wade through some questionable items, at least there are some usable materials around.
Now, imagine walking into a brand new art room and having NOTHING to fall back on. You must order every single thing for your space. What a task!
Allison stated, "I started at the front of the catalog and worked my way to the back. I've always been a penny pincher when ordering supplies. I think I sat around with Sax, Dick Blick, Classroom Direct and Nasco catalogs for over a week comparing prices and adding specific items sold exclusively through each catalog."
Here is what her in-progress spreadsheet looked like. Note that the prices on these are outdated.
We wanted to make it even easier for you. Using Allison's suggestions and the suggestions of other art teachers, we put together these comprehensive lists to give you a solid starting point for your classroom, no matter what age level you teach! Download and use the ones you need!
And, if your budget is less-than-ideal, be sure to take a look at the Running the Art Room on a Minimal Budget PRO Pack found in PRO Learning. You'll learn how to extend the life of your supplies with effective ideas, routines, and systems.
Elementary
Download the Elementary Art Room Starter Supply List below. For similar resources, take a look at the Pack, Organizing Your Elementary Art Room for Success in PRO Learning. Join Betsy Komarchuk as she discusses systems to keep materials, artwork, and teacher-related responsibilities organized and efficient.
Download Elementary List
Middle School
Download the Middle School Art Room Starter Supply List below. Find similar resources in the Pack, Surviving Your First Year of Middle School in PRO Learning. Jennifer Borel walks you through middle school-specific organizational ideas, as well as valuable classroom management strategies.
Download Middle School List
High School Drawing/Painting
Download the High School Drawing and Painting Course Supply Lists below. For more resources like this, check out the Pack, Surviving Your First Year of High School Art in PRO Learning. Tim Bogatz provides ideas on how to organize supplies for medium-specific courses, implement sketchbooks, and take care of yourself so you can have a smooth first year.
Download Drawing/Painting List
High School Ceramics/Printmaking
Download the High School Ceramics and Printmaking Course Supply Lists below. This can also be found in the Pack, Surviving Your First Year of High School Art in PRO Learning.
Download Ceramics/Printmaking List
Furniture, Equipment, and Instructional Materials
Art materials go beyond pencils, paper, and paint! There are many other materials to consider when planning a classroom studio. Reflect on the furniture, tech items, games, toys, and books you have too! Then, brainstorm where you can place these things and how to establish routines so your art room flows well. Download the Furniture, Equipment, and Instructional Materials List below and take a look at the Pack, Rethinking Art Room Space in PRO Learning for similar resources.
Download Materials List
Allison's advice to anyone who is opening a new classroom is to order everything you THINK you might need (and even a little more) because you WILL leave something off of your list. If you've ordered slightly more than enough the first year, then you will have room in your budget the following year to add the items you still need.
Even if you aren't opening a new art room, the list might inspire you to add to your growing collection of supplies, that is, when the budget allows!
What would you add to this starter list?
How do you organize your supply order?

Magazine articles and podcasts are opinions of professional education contributors and do not necessarily represent the position of the Art of Education University (AOEU) or its academic offerings. Contributors use terms in the way they are most often talked about in the scope of their educational experiences.