A few weeks ago, I was desperately looking for solutions to get some color onto my students' clay projects without using glaze. Don't get me wrong, glaze is pretty cool. However, it can be expensive, and it comes coupled with the workload of running the kiln a few more times. I knew there had to be other solutions out there. Through research and experimentation, I've gathered some alternative solutions that not only save money but look cool, too.

Check out some of the samples and solutions below to get your bisqueware looking fabulous!


1. Tempera Paint
You really can't go wrong by simply using the most affordable paint around to get that touch of color on clay. Give it a gloss by putting a coat of Mod Podge on top.

2. Watercolors
The simple 8-color palette will do the trick, and your students will love how it dries instantly.

3. Tempera Cakes
If you haven't jumped on the tempera cake bandwagon, now would be the time. Tempera cakes come in an abundance of vibrant colors.




4. Oil Pastels and Watered-Down Tempera
Nothing says "art teacher" like a good ol' watercolor resist. So, let your kids color with oil pastels on their clay pieces and then give their masterpieces a wash of watered down, black tempera. If the tempera covers the oil pastel completely, you can give the pieces a quick rinse under the faucet.

5. Wet Tissue Paper
Try letting students layer colored tissue paper on top of their projects and then soak the tissue with a spray bottle. This creates a tie-dye effect! Try using coffee filters colored with markers in place of the colored tissue for a similar effect.

6. Chalkola Markers
Did you see the sign created using Chalkola Markers in last month's article on rules and consequences? Turns out, they work extremely well on clay too. Best of all, they are vibrant and provide a lot of control.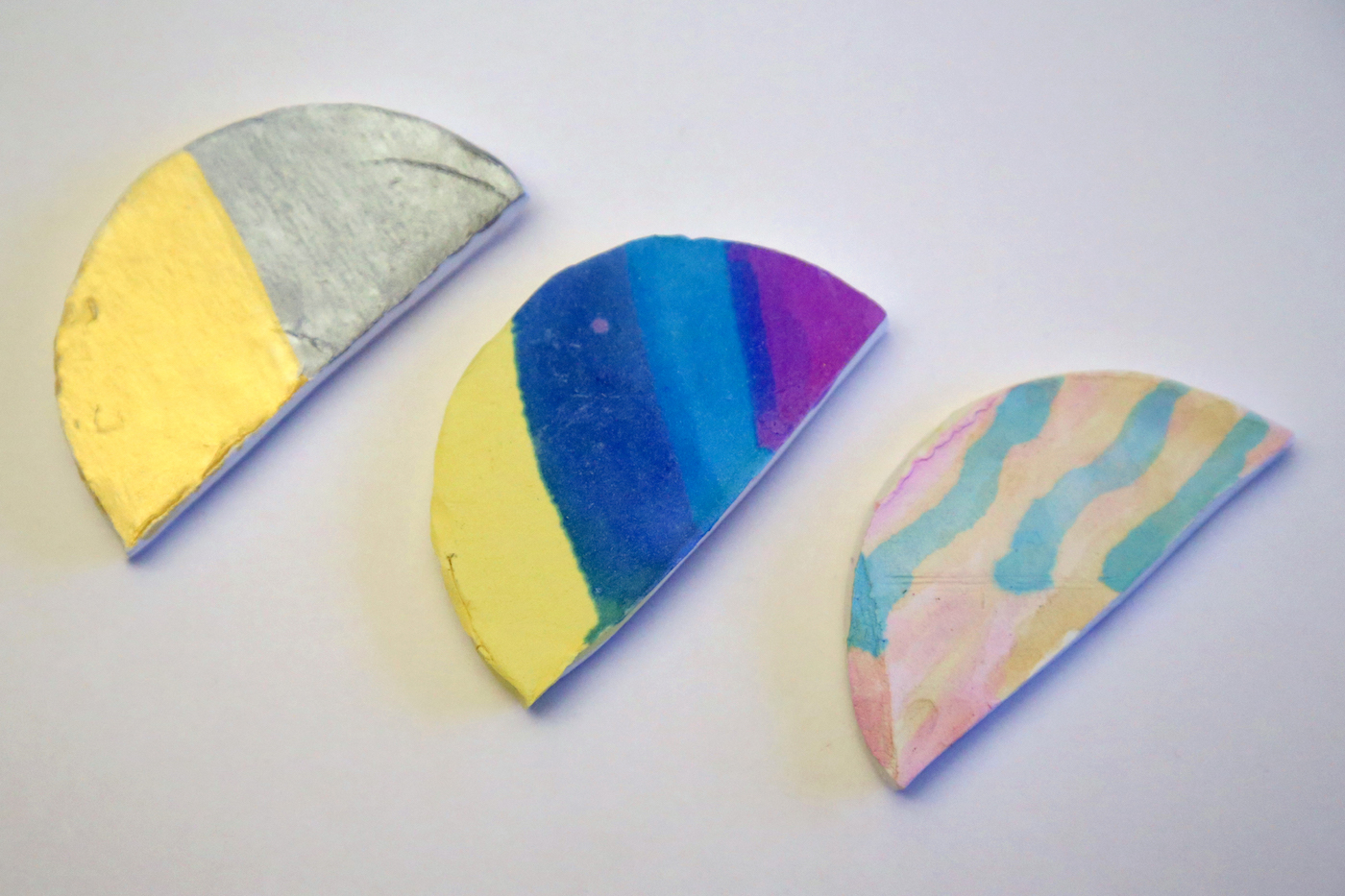 7. Metallic Paint
Bring a little richness to your clay by painting with metallics. Metallic paint looks especially great on textured clay pieces.

8. Liquid Watercolors
The fully concentrated colors look wonderful on clay, and they dry quickly!

9. Watered-Down Liquid Watercolors
Don't want to give up your fully concentrated liquid watercolor so fast? No problem. Water them down for a pastel look.




10. Glitter Paint
If you love glitter why not add it to clay? (Glitter Mod-Podge is pretty fantastic too!)

11. Spray Paint
If you're working with older students and feeling adventurous, head to a well-ventilated area to create some cool effects with spray paint. Stencils add even more fun. Don't forget to check out these safety tips!

12. Puffy Paint
Why not add more texture and dimension to your clay? Students will go crazy for this fun material.




13. Rub 'n Buff
This cheap purchase gives clay a truly shiny look. Give it a try!

14. Shaving Cream and Paint
What could be more fun than combining shaving cream and paint? Dispense some foaming shaving cream onto the table then add liquid watercolors. Swirl the colors with a toothpick and set your clay on top. Pick your clay back up and wipe the remaining shaving cream off. Your students will be amazed by the marbleized effect!

15. Markers
Sure, they might seem pretty basic, but if they're all you have, they are a solid option. Or, try markers on coffee filters like number 5 suggests. Permanent markers work too!

If you've been holding off on clay because you don't have a budget for glaze, give some of these ideas a try. If you already use glaze in your room, these ideas can provide some variety. Maybe you will even come up with a few of your own ideas!


What is your favorite way to add color to clay?
Do you have any other techniques to share? Sound off in the comments. (Pictures are welcome!)
Magazine articles and podcasts are opinions of professional education contributors and do not necessarily represent the position of the Art of Education University (AOEU) or its academic offerings. Contributors use terms in the way they are most often talked about in the scope of their educational experiences.