Colored pencils are a fun and versatile media. They're great for capturing fine detail and give the artist a great degree of control. Sometimes they can be pigeonholed as time-consuming or requiring lots of patience, but it all depends on your approach. With the right techniques, colored pencils can work easily for almost any age level with stunning results.
Read on for seven great colored pencil techniques your students will love.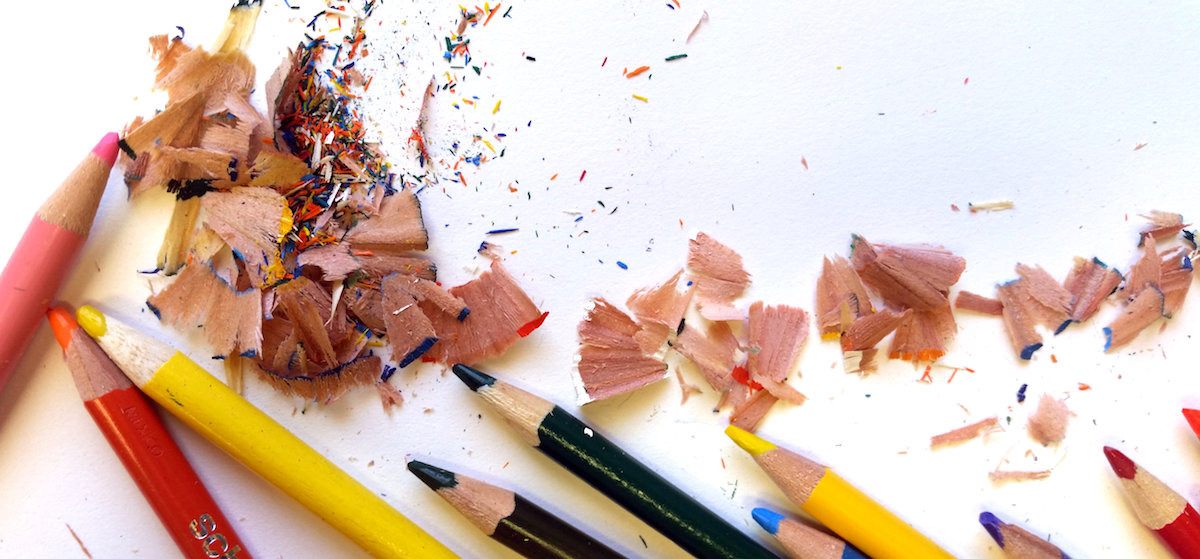 1. Burnishing
Build up light layers of color using any type of mark making until all of the paper is covered and the surface appears waxy and smooth.
2. Scraping
Use an X-ACTO knife on a burnished surface to scrape away areas of pigment. This works well for capturing fine details, like individual hairs, or as a means of removing color to re-work a problem area.
3. Directional Lines
Draw lightly in one direction in swift, even strokes. Layer colors to add complexity and depth. This is an excellent technique for any object with a distinct linear quality, like draped fabric, grass, or hair.
4. Scumbling
Move the pencil in circular marks, layering color as you go. This technique is very versatile, working well to create distinct texture or smooth, blended areas.
5. Crosshatching
Lay down a layer of directional lines, then go over the same area with lines in the opposite direction. This is another great technique to create texture.
6. Baby Oil or Rubbing Alcohol
Add a small amount of baby oil or rubbing alcohol to a cotton ball and rub over areas you want to blend. The trick to making this work is to make sure you use just a bit of the blender on the cotton ball. For small areas, try a Q-tip instead.
7. Watercolor Wash
Tape your paper to your work surface to prevent curling. Then, cover big areas with a light watercolor wash. After your paper is totally dry, layer colored pencil over the background color for awesome results in less time.
There are so many different effects you can create. Don't be afraid to try out other mixed media combinations as well. For example, a white gel pen or white acrylic paint can be a great way to add highlights to finished work. The possibilities really are endless, so make sure to encourage experimentation!
And, if you're looking to learn about and explore even more innovative drawing techniques, be sure to take a peek at the AOEU course Studio: Drawing. You'll walk away with the inspiration to rethink how you teach drawing. Plus, you'll get to try out new techniques as you create your own work!
If you'd like to use these techniques in your classroom, feel free to download the handy guide below!
What colored pencil tips, tricks or techniques do you love? Tell us in the comments!
Magazine articles and podcasts are opinions of professional education contributors and do not necessarily represent the position of the Art of Education University (AOEU) or its academic offerings. Contributors use terms in the way they are most often talked about in the scope of their educational experiences.