As you head into January, you may begin to realize your supply budget is never going to last the rest of the year.
For example, no matter how much white paint I order, or what projects we do, I always run out of white paint.
Let's explore 10 mixed-media artists who will help you and your students find ways to create with what's left in your room.
1. We Make Carpets
We Make Carpets is a group of three designers with wonderful imaginations. At first glance, the work they create looks like carpets. But, get closer, and you'll see they're made from found objects arranged in intricate patterns.
There are "carpets" made from pencils, balloons, forks, and more.
Have students brainstorm the found objects to which they have access like bottle caps, dead markers, or milk cartons. Over the course of a few days or weeks, have them collect items. In class, have them draw patterns and think about where they might install their creations.
Website: www.wemakecarpets.nl
2. Martha Haversham
Martha Haversham is an interdisciplinary artist from the UK. She creates simple, playful images by combining parts of the figure with found objects. Her combinations bring both the figure and the object new life.
Her artwork is a great way to encourage students to reimagine the bits and pieces they find laying around every day. Challenge students to create a piece using something they find on the floor or in the hallway.
Website: www.instagram.com/smallditch
3. Clare Celeste Borsch
Clare Celeste Borsch is a collage and installation artist. Her work is full of color and whimsy and sure to make you want to grab your scissors and X-ACTO knife.
Start recycling magazines, picture books, and junk mail to create individual collages inspired by her work. Or, have students work in groups to create a collaborative installation to transform a selected space. Both of these are low-cost projects with big impact.
Make sure to scroll through her Instagram feed for endless inspiration.
Website: http://clareceleste.com/
---
Looking for more mixed-media techniques to bring into your classroom? Check out the Collage Techniques for Every Level and Beginning Sculpture PRO Learning Packs You'll explore innovative ideas to go beyond paper and glue and discover new lessons and ideas that can be used with a variety of materials.
---
4. David Wightman
David Wightman is an abstract landscape painter. The textures in his paintings will surprise you, as he paints with acrylic paint over textured wallpaper. He works with flat colors, creating depth by layering and overlapping blocks of color. His work has been transformed, printed onto fabric, and used by designers to create clothes.
Try having students create textured painted paper for collage. You might try painting on wallpaper samples, corrugated cardboard, or other textured surfaces.
As you look through his Instagram, feed you'll see the simple sketches he uses to guide his final paintings. Use these to help students think through planning their own pieces.
Website: http://www.davidwightman.net/
5. Jenna Douglass
Jenna Douglass creates mixed-media pieces, through collage, painting, masking, and drawing. Her work is filled with a variety of lines and textures.
Use her work to help students learn about composition, masking techniques, and layering.
Website: http://jennadouglass.com/
6. Njideka Akunyili Crosby
Njideka Akunyili Crosby creates figurative compositions through collage. She lived in Nigeria until she was sixteen and now resides in the U.S. Her compositions are full, yet tend to have a sense of calm as she brings two worlds together. Her work is a combination of collage and painting.
Challenge students to bring elements of collage into a painting or drawing while making it look like both were created by the same hand.
Website: http://www.njidekaakunyili.com/
7. Lauren Collin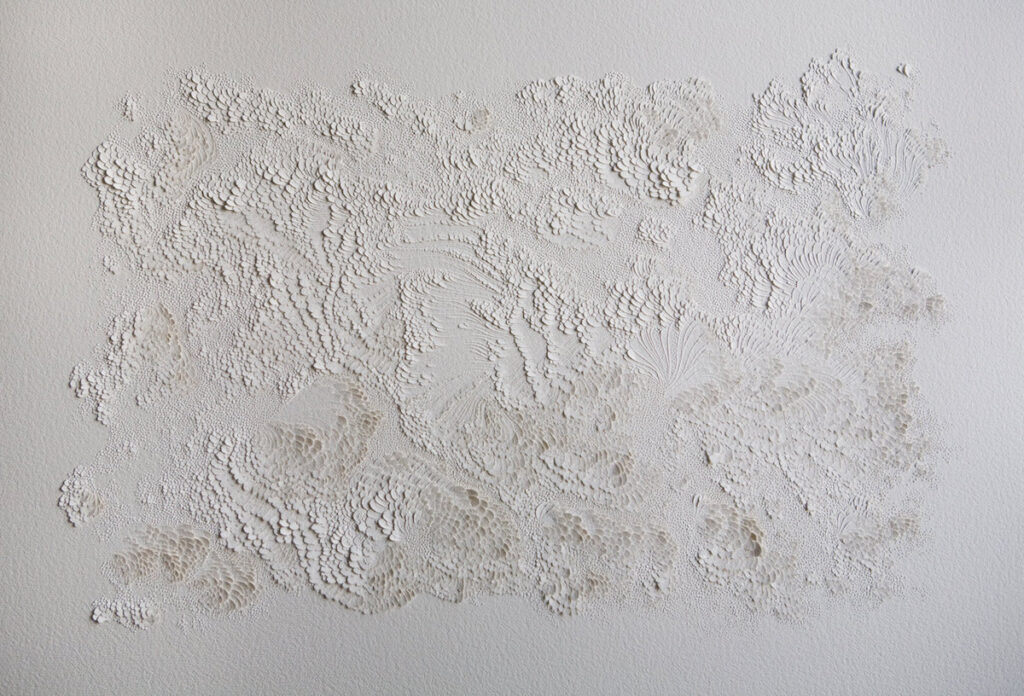 Lauren Collins makes delicate cuts into watercolor paper creating beautiful monochromatic bas-reliefs.
Provide students with small squares of watercolor paper and see what they can create. Or, recycle past pieces that students don't like, or left behind. Flip the paper to the back and cut, slightly revealing the colors on the other side.
Website: http://www.laurencollin.com/
8. Eva Magill Oliver
Eva Magill Oliver creates paintings and collages on paper. Her sketchbooks are especially intriguing. She transforms them through drawing, painting, cutting, and collaging, not letting the edge of the page restrain her.
Use her work as inspiration to help students reimagine how they use their sketchbooks. Next, head to her website and spend some time viewing and discussing the collaborations sections. Her designs are turned into quilts, delicate mobiles, and dinnerware.
Website: http://www.evamagill-oliver.com/
9. Johanna Goodman
Johanna Goodman uses collage to create playful figures. She explores proportion and storytelling through the images she combines. Be sure to check out the highlights on her Instagram stories as her collages come to life with animated elements.
Connect with your school's history teacher and have students create a collage of a historical figure.
Website: http://johannagoodman.com/
10.  Gale Jamieson
Gale Jamieson created a series of sculptures by layering newspapers and magazines. Each piece resembles the shape of a tree and tells a story through the images on the outer layer of the piece. The pieces are preserved with beeswax.
With your students, explore the process of layering or laminating to create a 3D form. Use items like newspaper, magazines, or cardboard.
Website: http://www.galejamieson.com/
The possibilities are endless when it comes to working with mixed media. Providing students with non-traditional art supplies can also be a fun and powerful way to save money and challenge their creative problem-solving skills.
What is your favorite mixed-media project?
Who is your favorite mixed-media artist?
Magazine articles and podcasts are opinions of professional education contributors and do not necessarily represent the position of the Art of Education University (AOEU) or its academic offerings. Contributors use terms in the way they are most often talked about in the scope of their educational experiences.