Can you believe 2022 is almost over? Here at the AOEU Magazine, it's been an exhilarating year! Our diverse team of writers has added 155 articles to our collection for over 370,000 views. From research-based to light compilations, each article is packed with helpful tips and engaging ideas written by practicing art educators. Whether you need advice on classroom management, ideas for a lesson, or insight into different instructional strategies, AOEU Magazine has the perfect resources for you!
Check out our top ten articles of 2022!
Sometimes, life gets in the way of a well-planned project, and you need a one-day backup plan. Andrea Wlodarczyk's article shows how to create crumpled paper "stained glass," abstract paper cutting, Suminagashi paper marbling, watercolor salt paintings, and value scale water droplets. Be sure to save these ideas for when you are in a pinch!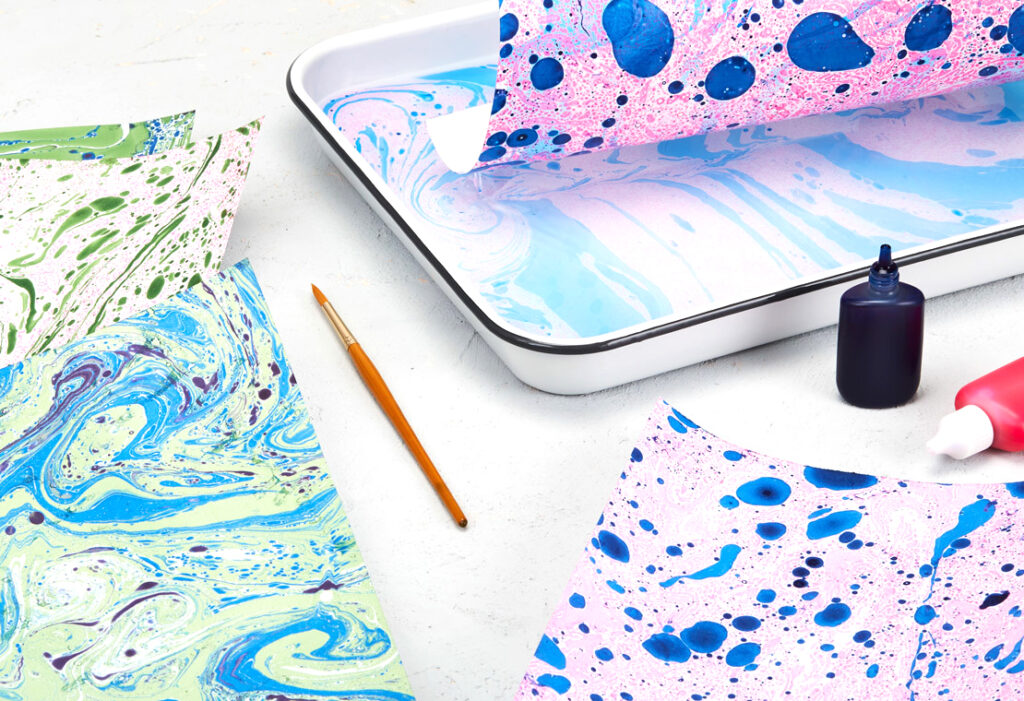 If you are an AP Art and Design teacher, a large part of your job is to help students prepare their portfolios for submission and the college application process. Janet Taylor's article breaks down the requirements and updates so they are easy to understand. She goes over the two portfolio sections, the number and quality of images required, and even provides a handy AP Art and Design Portfolio cheat sheet for you to download. This article is a must-read for AP Art instructors!
Unpacking the National Standards isn't always fun, but Jessica Madenford has done all the hard work for us! In this article, she provides a handy download categorizing the standards into four processes and their main ideas. The article also gives suggestions on how to implement each process most effectively.
Students sometimes struggle to reflect deeply on their artwork. Claire McWillimas' article gives developmentally appropriate questions and sentence stems for elementary, middle, and high school students. Be sure to download the resource Self-Reflection, Critiques, Artist Statements, and Curatorial Rationales to easily reference all of the tips and strategies from the article.
Art teachers want their classrooms to be safe spaces where students can destress. Sometimes, our routines and projects, while fun, can still be stressful. Take an alternative approach when these moments pop up. In Andrea Wlodarczyk's article, you will find the science, causes, and symptoms behind student stress and how unprogramming can help. Try out her four ideas for unprogramming to see how they can positively impact your students!
Classroom management is one of the least fun and yet most important parts of teaching. It's also boring for students when they are constantly lectured on classroom rules and procedures. Make it an enjoyable experience by incorporating classroom management games. They are excellent for introducing procedures or acting as refreshers for routines throughout the year. Check out this article for six classroom management games, as well as lists of the materials needed, game rules, and instructions. There is even a handy download to help you assign collaborative game-playing roles!
Similar to our article, 5 Successful One-Day Art Lessons for the Middle School Classroom, this article discusses one-day lesson ideas for the elementary art room. Take a look at Jonathan Juravich's ideas to engage your students and keep them making art—even on days when circumstances prevent longer projects.
Incorporating a new curriculum is daunting, especially when the curriculum is one as in-depth as the International Baccalaureate (IB) Visual Arts curriculum. Shannon Brinkley offers five tips for approaching the IB curriculum and the three assessment tasks. The article also has a downloadable cheat sheet explaining IB Visual Arts and the difference between the two levels: Standard Level and Higher Level. If you are looking for a curriculum to push your students and give them more opportunities, start by checking out Brinkley's article to see if IB is a good fit for you and your students.
Sketchbook assignments make useful and fun bellringers. Make them double as a social-emotional learning opportunity by using the prompts in this article. Andrea Wlodarczyk organized them into the five different SEL competencies: self-awareness, self-management, social awareness, relationship skills, and responsible decision-making. Print the handout of all fifty sketchbook prompts to refer to daily. Each category is organized with more-simple prompts at the top and more complex prompts at the bottom. This makes it easy to pick prompts to match your students' level.
Developing relationships with students is important for classroom management and classroom culture. Relationships have to be developed and then maintained throughout the year. Fortunately, there are many ways to do this. Check out Jessica Madenford's article to learn different strategies for building rapport with your students.
Check out our top three podcasts of 2022!
AOEU doesn't just publish articles. We also have a podcast hosted by former art teacher and AOEU's Content and PD Event Manager, Tim Bogatz. In 2022, we produced over 70 podcast episodes and crossed over 500,000 downloads. Just like our articles, the podcast episodes cover various topics. The most popular topics were new teacher advice, curriculum ideas, classroom management, and art teacher horror stories.
First-year teachers have to learn the ins and outs of their school, district, curriculum, and student population. Out of the many topics and areas to learn, classroom management is usually the most overwhelming. Common first-year teacher questions include: "How do I deal with challenging student attitudes?" "Are bell ringers effective management tools?" "Are loud art rooms okay?" "Should I assign homework?" "How do I avoid power struggles?" and "How do I encourage students to take responsibility and respect supplies?" Tim Bogatz interviews Janet Taylor and Lindsey Moss in this episode. They go over how to navigate these issues and determine which classroom management tools and strategies will work best for you.
One-day lessons were a popular topic this year because they are so handy in a variety of situations. In this podcast episode, Tim Bogatz reviews one-day lesson ideas from Jennifer Snell, Wynita Harmon, and Abby Schukei. From art challenges like the moving structure challenge and quilling to outdoor activities like scavenger hunts and observational drawings, the podcast goes over tons of ideas to use when you are in a bind.
Ekow Nimako is an artist who uses monochromatic Lego pieces to create dynamic sculptures. Tim Bogatz asks Nimako about his inspiration, process, and artistic evolution. Listen to the full episode to hear how Nimako uses his art as a form of storytelling, how he fits into the fine art world, and what he's planning for the future.
These ten articles and three podcast episodes are just a fraction of the resources the AOEU Magazine has provided in 2022. Use them when you are stuck on project ideas, need help with classroom management, or need practical advice specific to being an art teacher. For more in-depth coverage of these and other topics, check out our PRO Packs and FLEX Curriculum. Keep an eye out for even more AOEU Magazine articles every Monday, Wednesday, and Friday. In addition, if you have a unique perspective to offer your fellow art educators, apply to become a part of the AOEU Magazine writing team!
What was your favorite AOEU article or podcast this year?
What topics do you want the AOEU Magazine to cover in 2023?
Magazine articles and podcasts are opinions of professional education contributors and do not necessarily represent the position of the Art of Education University (AOEU) or its academic offerings. Contributors use terms in the way they are most often talked about in the scope of their educational experiences.